Animest is celebrating its 18th edition, with Latvia as the guest country. The festival features diverse events, including films, special screenings, the Creepy Animation Night, Animusic Night, Erotica Vol. 3, Harbour Master – Fredrikstad Animation Festival, Trippy Animation Night, and much more.
Additionally, films are competing in various categories, including Short Film, Student Film, VR, Feature Film, Romanian Competition, and Minimest Competition.
Over ten days, people of all ages will have the opportunity to enjoy numerous films created in recent years, with many of them being introduced by their respective creators, who are special guests at the festival.
The captivating adventure into an imaginative realm without boundaries will commence with "Chicken For Linda," the recipient of the Annecy Crystal award, a family-oriented tale that will be featured at the opening gala on Friday, October 6th, at the Luceafărul Hall (formerly known as Cinema Pro).
Haruki Murakami enthusiasts should ensure not to overlook the Romanian debut of the movie "Blind Willow, Sleeping Woman" (directed by Pierre Földes), which draws inspiration from his short tales.
Anime enthusiasts are invited to explore, on the day dedicated to Japanese culture (October 8th), "The Tunnel to Summer, the Exit of Goodbyes," the latest fantasy film by director Tomohisa Taguchi.
Animest Full Program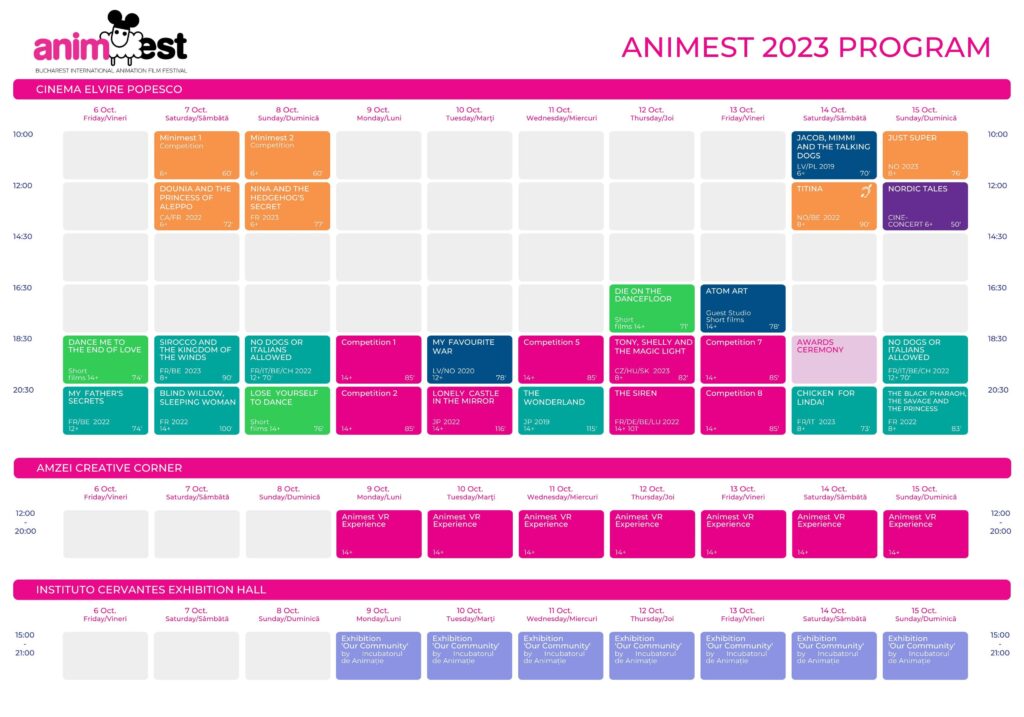 The festival unfolds like a tapestry, spread across several enchanting days and many captivating venues. These cinematic and art treasures will grace the screens of Cinema Elivre Popesco, Amzei Creative Corner, Instituto Cervantes Exhibition Hall, Cinemateca Eforie, ARTHUB, Sala Luceafărul, Goethe-Institut and at CNDB.
In addition to the films that will be screened, there will also be various other components to the festival, including competitions, Minimest for children, the Gopo 100th anniversary celebration, special screenings, masterclasses and presentations, special events, exhibitions, workshops, and parties.
If you can't attend the festival in person or find yourself outside the city, fret not – you can still bask in the Animest Fest experience from the cozy confines of any location through online.animest.ro, where you'll have the opportunity to indulge in the Short Film Competition.
About Bucharest International Animation Film Festival
The Animest International Animation Film Festival is Romania's exclusive animation film festival, founded in 2006. The festival showcases hundreds of films worldwide in six competition categories, retrospectives, and programs dedicated to renowned animation schools, genre festivals, and industry leaders.
Every October, Bucharest hosts directors, producers, students, curators, and journalists who engage with the audience through discussions, premieres, workshops, masterclasses, concerts, and presentations of new animation projects.
One of the festival's primary missions is to revive and promote domestic animation. The local competition within the festival has grown since its launch in 2007. The new generation participating in Animest's workshops now includes professionals working in animation studios in the country and students from major European universities. Romanian animation films have been selected and awarded at significant festivals recently.
The festival organizes film screenings in various cities nationwide, and curates film selections at international festivals, and Animest Chișinău has been a consistent annual event since 2011.