The season that celebrates love has opened, giving rise to the search for the perfect gifts for loved ones. Valentine's in Bucharest allows you to state your feelings creatively. An original gift, accompanied by a story on which no dust will settle, but only joy, can be found at Art Addict – Dependent de Artă, the Art Boutique opened by Artmark, as an alternative to its classic auctions or the usual decoration stores of vast consumption. Dependent de Artă allows access to an impressive stock of collectible pieces, specially prepared to be given as gifts during this period. Choosing this source of inspiration guarantees memorable moments and pieces that will last for generations in an age of speed.
Thus, Art Boutique – Dependent de Artă becomes the service that provides classical and contemporary works of art, pieces of decorative art by authors, collection icons, vintage or contemporary jewelry, luxury watches or exclusive but pre-owned bags. , for which no waiting list is required.
Those who celebrate love on February 14 can opt for the "Love Red, Blue, Green" sculpture by Robert Indiana or a pair of Chopard Happy Diamonds gold earrings. "Dragobete" lovers can choose a contemporary work – "Portrait of a couple", signed by the artist Ana Bănică or an engraving with masterful birds made by Ștefan Câltia.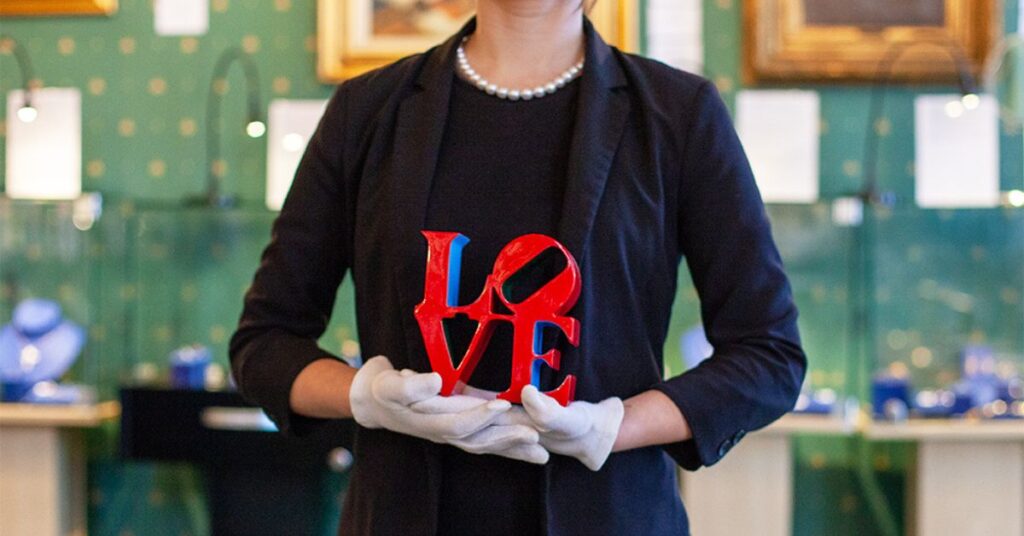 Dependent de Artă brings together works of art that evoke famous couples: Adam and Eve, Ulysses and Circe or Tristan and Isolde. Thus, art enthusiasts will appreciate a special gift: the original photograph "Adam and Eve," which illustrates the sculpture made by the master Constantin Brâncusi. The photograph was taken for The Solomon R. Guggenheim Museum in New York in 1955. Another work that will impress in the month of love is "Odysseus and Circe" made by Romeo Storck or the pair of plates with Neo-Renaissance decoration in majolica depicting the love of legend between Tristan and Isolde.
A bouquet dedicated to the ladies and gentlemen can be completed with a gorgeous pair of rose gold earrings decorated with diamonds and pink sapphires. A dinner out on the town can culminate with the gift of a Chopard pendant chain in white gold decorated with a mobile diamond. These can be purchased from the Dependent de Artă by Artmark art store immediately outside the classic auction schedule.
The Dependent de Artă store, the sure source for exceptional gifts, can be accessed both online and physically, at Cesianu-Racoviță Palace, between the hours of 10:00-20:00. The process of choosing a collectible gift is completed by online assistance or in the store on C.A. Rosetti, no. 5. An art consultant will inform and advise you on choosing the right gift for the situation or the recipient. At the same time, those who do not easily decide which gift to choose can opt for a Gift Certificate, which gives their loved ones a chance to choose the art that suits them.