Bucharest Gaming Week occurs in a hybrid format between October 7-15, 2023, with events in different locations and online broadcasts. The Palace of Parliament will host the central event on October 14 and 15, spotlighting Romania's best-known gaming content creators and the newest video games released this year.
The main event occurs at the Palace of Parliament with the most famous streamers, the newest games and contests with hundreds of prizes.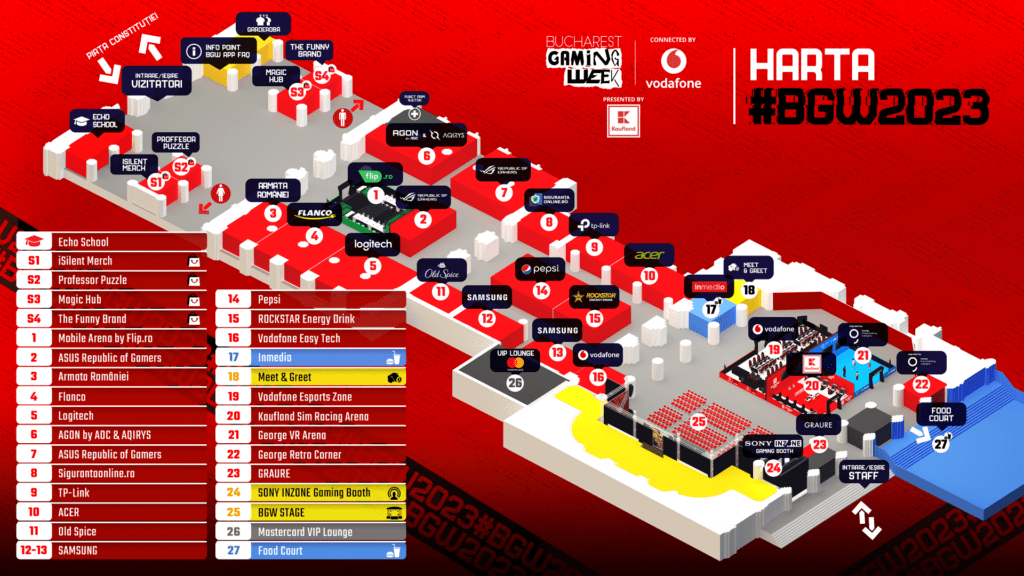 In the three halls of the Palace of Parliament, Unirii, Take Ionescu and I.I.C Brătianu, gamers will meet the most popular streamers and vloggers in Romania; they will be able to experience the newest international games and compete in many competitions with prizes.
Among the content creators announced at Bucharest Gaming Week are IHATEPINK, Theo Zeciu, Bercea, Lecutura, Gannicus, Salbaticu' Sebi, Ovvy, iSilent, Mădălin, Tudor Butan, Andu, meitii, Luca Luk, Werty, Antonia, Bobospider, karinul, Adrii, IceManLucky and many others. They will hold demo tours of their favourite games with members of their communities and participate in meet & greet sessions where they will share stories with their fans.
Newly released games this year that gamers will be able to play at the event include Counter-Strike 2, Mortal Kombat 1, Baldur's Gate III, Assassin's Creed Mirage and more. The most watched games of the moment, such as Minecraft, Stumble Guys, League of Legends, Fortnite or Valorant, will not be missing either.
Hundreds of thousands of people will watch Bucharest Gaming Week online, and thousands more will come physically to the Parliament Palace to see the new game releases, meet their idols, but also find out what creative work is behind the games and how they can access this industry and what studies to follow. Romania hosts two big gaming events this year, Bucharest Gaming Week, after the World Esports Championship in Iași. This shows that gaming is increasingly present in Romania, capturing the attention of a large audience and agents.

Tudor Dăescu, co-organizer of Bucharest Gaming Week
Bucharest Gaming Week: A week full of gaming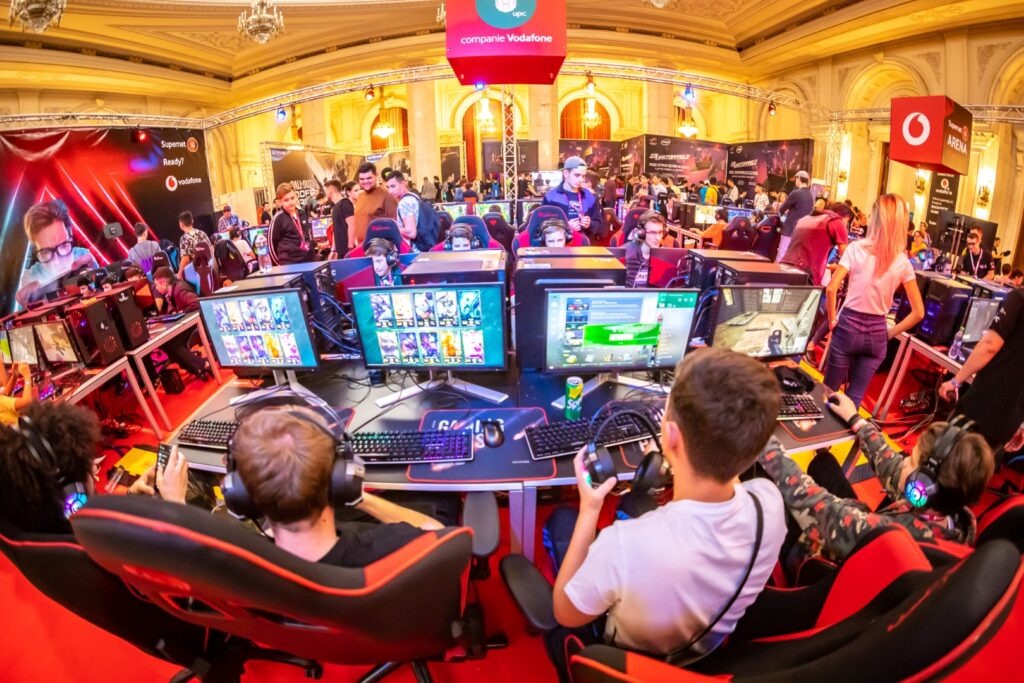 Bucharest Gaming Week begins with a series of live streams on October 7-8, where some of the most popular influencers will challenge communities with missions in the most popular games. Gamers from all over the country are invited to watch online, among many others, Bercea, Lecutura, Gannicus, Sălbaticu' Sebi, Ovvy, Luca Luk, Antonia, karinul or Adrii playing Counter-Strike 2, EA Sports FC 24, Minecraft and many other games.
Between October 7-13, 2023, Bucharest Gaming Week offers many related events highlighting the power created and opportunities the gaming industry offers, from game development workshops for licenses to conferences on cybersecurity.
Thus, the students of Tudor Vianu and Mihai Viteazul high schools in Bucharest will participate in presentations and workshops organized at Amber and Gameloft studios in Bucharest, during which young people will discover what skills are needed to build a career in the video game development industry.
On October 13, during the Bucharest Cybersecurity Conference, there will be a round table organized in partnership with Sigurantaonline.ro, DNSC and the Romanian Police, which draws attention to the dangers to which players are exposed in the online space.
Bucharest Gaming Week joined After x Image, the first visual culture festival in Romania, to offer visitors the opportunity to try some of the most popular video games developed in Romania. Among them is Door Kickers: Task Force North, developed by Killhouse Games, an innovative real-time strategy game that puts you in charge of a SWAT team to command them during a tactical intervention. Another popular Interrogation game, inspired by noir detective films, is built around particularly topical topics such as radicalization and the nature of authority, presenting numerous moral and ethical dilemmas. After x Image MAIN STAGE will occur at Mindspace Business District on October 7th and 8th.
Last but not least, the meeting points of the gaming community, such as GeekHub Bucharest, 1UP Gamers Pub and Nexus Gaming, are preparing a series of activities and contests to be won at the central event of the Palace of the Parliament. These include board game tournaments, watch parties, D&D sessions, and trivia contests.
The Palace of Parliament, the epicentre of Bucharest Gaming Week 2023
Fans of video games, cosplay, esports and more await at the Palace of Parliament on October 14 and 15 for two days full of prizes, adventure and non-stop fun.
The surprises prepared for young and old alike guarantee the explosion of energy and fun. Those who dare to enter the arena will face the most popular influencers in exceptional tournaments and exciting contests with fabulous prizes.
The future of gaming is revealed in George VR Arena, where visitors will be part of amazing simulations and experience unforgettable moments in Deathmatch or team matches in Quantum Arena and Cops vs. Robbers. The competitive spirit will be taken to the highest levels in the Vodafone Esports Zone, an epic space with more than 40 computers where intense battles will occur in games such as Fortnite, PUBG and Call of Duty: Warzone. Those who prefer mobile gaming can demonstrate their skills in the Mobile Arena by Flip.ro, participating in competitions organized using the popular games of the moment – Stumble Guys, Free Fire, Minecraft and Clash Royale. Retro game enthusiasts can play Street Fighter and other iconic games released in the 80s and 90s on two arcade cabinets.
The sim racing arena returns to the event after the excitement generated at its debut last year. The program at Kaufland Sim Racing Arena includes tournaments for amateurs in Assetto Corsa and Assetto Corsa Competizione, free-to-play periods, but also the evolution of the reference sim racers in the country in the Digital Romanian Endurance Series final. The virtual championship began in March, mirroring the action on real circuits in Assetto Corsa. The grand final from BGW will take place, in an absolute first, on the digital version of the Transilvania Motor Ring circuit, transposed on a simulator by the developers of the Racing League Romania based on a high-definition laser scan. The grand prize reserved for the champions consists of driving experiences on the circuit, even with the cars used throughout the year in Digital RES: BMW 325i Cup and Dacia Logan Cup.
The central event, Bucharest Gaming Week, takes place on Saturday and Sunday, October 14 and 15, from 10:00. The entrance to the Parliament Palace is from the Constitution Square.
Minors under 14 can only enter accompanied by a parent or guardian, and people with disabilities benefit from free access based on a medical certificate.
Tickets for Bucharest Gaming Week can be purchased directly on-site.
Who are the streamers you can meet at Bucharest Gaming Week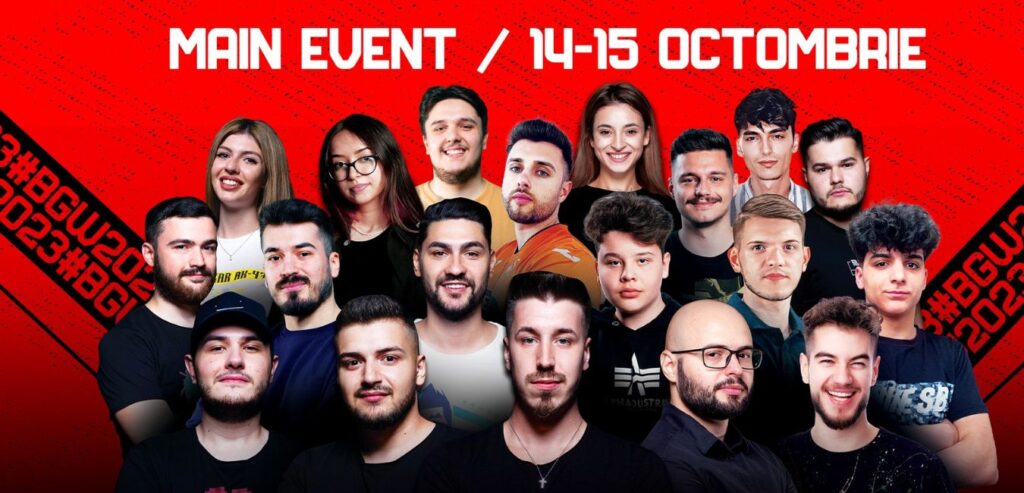 Bucharest Gaming Week, the biggest gaming event in Romania, will take place at the Palace of the Parliament on October 14 and 15. Those who want to know everything new from the gaming universe are waiting for contests and hundreds of prizes, the best-known gaming YouTubers in Romania and the most popular and newest video games.
In addition to countless tournaments and show matches, during the Meet & Greet sessions, participants can meet their favourite content creators in person: BERCEA, LECTURĂ, IHATEPINK, GANNICUS, SĂLBATICU' SEBI, OVVY, THEO ZECIU, ISILENT, MĂDĂLIN, TUDOR BUTAN, ANDU, MEITII, LUCA LUK, WERTY, ANTONIA, BOBOSPIDER, KARINUUL, ADRII and ICEMANLUCKY.
Many other streamers will be present in the booths at Bucharest Gaming Week.