Junior Chamber International (JCI) Bucharest and JCI Romania are proud to announce its European Leadership Conference in Bucharest, Romania, from May 24th to 27th, 2023. This year's event will be a dynamic and exciting gathering of business leaders, entrepreneurs, and innovators from Europe and beyond. Under the "New era. New Business" tagline, the conference will address the most up-to-date business and economic topics.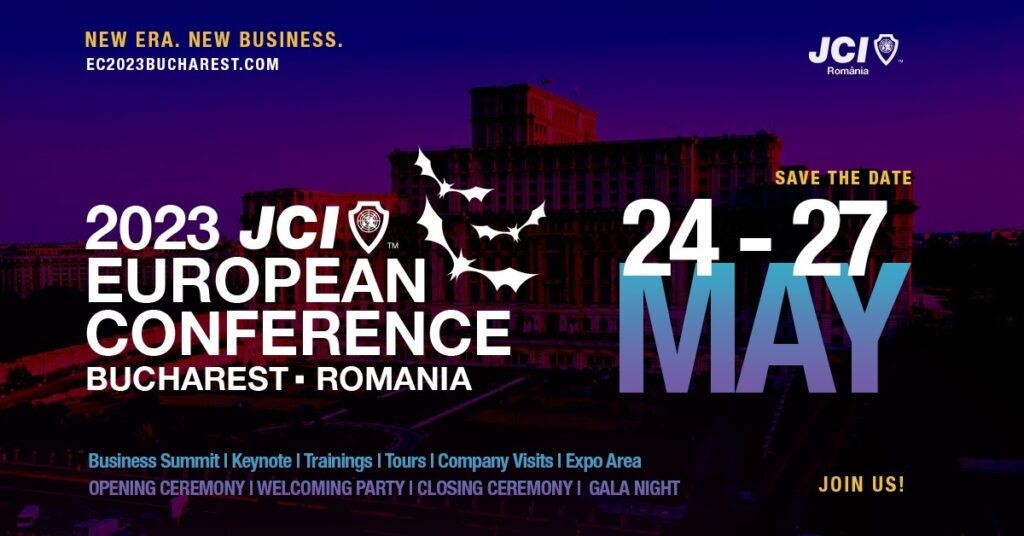 JCI European Conference agenda includes a Business Summit, a Creative Young Entrepreneur contest, an entertaining Expo, a JCI program with training, workshops, receptions, meetings, and Public Speaking & Debating Championships. There will also be opportunities for company visits, city tours, coffee and wine tastings, Romanian cuisine, and famous pălinca. To spice up the experience, attendees can enjoy Swiss-German night on Thursday and Finnish night on Friday.
The event starts with a grand opening ceremony at Face Club, awarded as the "Best Club in Romania" by World's Finest Clubs. The evening will feature a traditional Romanian feast, an open bar and an exceptional performance by Johnny Depp's favourite band, Taraf de Caliu. The night will also feature a special dance of the Călușari, a UNESCO-recognized cultural masterpiece.
The two-day Business Summit will take place on the 25 & 26 May at the Crowne Plaza. Its primary focus is on "Innovating Business in Europe." Panel discussions and keynotes will cover a range of timely topics such as Romanian investment opportunities, the European economy, business innovation, sustainable finances, access to capital, international trade, supply chain and digital marketing.
Keynotes and participants confirmed include Stelian Bujduveanu, Vice-Mayor of Bucharest; Baybars Altuntas, World Business Angels Investment Forum Chairman, Raluca Radu, Country Manager of ANSWEAR; Simon Alexander Ong, Entrepreneur and Business Strategist; inventor Cornel Amariei, Ten Outstanding Young Persons Finalist, Founder document; Niki Kousi, Managing Director EIT Manufacturing CLC South East; Andrei Radu, Founder GPeC – The Most Important E-Commerce Event in CEE; as well as a tentative confirmation from the office of the President of Romania and other governmental and business leaders in the region.
The Expo area, located at Iris Ballroom near Crowne Plaza, will be open on the 25 & 26 of May from 10:00 AM to 6:00 PM and offer a chance to check out competitors, discover new business solutions, and enjoy VR and leisure activities.
The conference will end in style with a Gala Dinner and Awards Ceremony at the Palace of Parliament, the second-largest building in the world. This once-in-a-lifetime experience is not to be missed.
JCI European Conference Bucharest 2023 is an unparalleled opportunity for professionals to connect, learn, and grow their businesses. Register now for this exciting event and experience the best of Romania and the European business community.
More details: www.ec2023bucharest.com