The legendary rock band Guns N' Roses will perform in Romania this year. The band has played in Bucharest before, back in 2010 and 2012, but this time the band members will perform reunited, in their classic format.
The concert will take place on July 16, 2023, in Bucharest, at the National Arena, and will bring Axl Rose, Slash, and Duff McKagan in front of the fans for the first time in many years.
This is the first time Axl, Slash, and Duff McKagan have played together on the same stage since the historic "Use Your Illusion Tour" in 1993, which ran for no less than 175 concerts and remained one of the most profitable and successful in history. The July 16, 2023 concert is part of the "We're F'N' Back!" tour.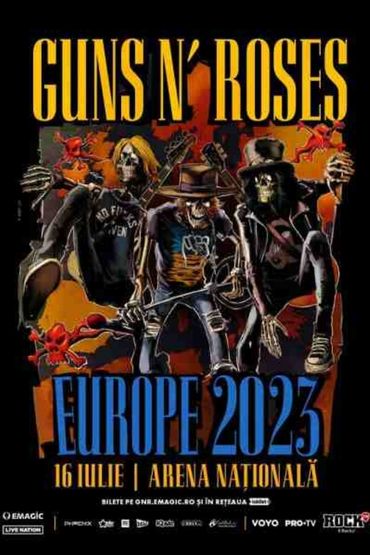 The extensive world tour is produced by Live Nation and will perform in stadiums, arenas, and festivals around the world throughout the summer and fall. The powerhouse rock band kicks off the tour on 5 June in Tel Aviv and will continue with shows across Europe under the same classic line-up, arriving in Bucharest on Sunday 16 July at the National Arena for the rock concert of the year!
Guns N' Roses has so far sold over 100 million albums worldwide, including 45 million in the United States, making them one of the best-selling bands.
Tickets for the Guns N' Roses concert at the National Arena Bucharest can be purchased at gunsnroses.emagic.ro, gnr.emagic.ro, bilete.emagic.ro, as well as on iaBilet.ro and Entertix.ro networks, starting Friday, February 24, 10:00 am. Fans will also be able to purchase VIP packages, which will include premium tickets, access to the VIP bar throughout the concert, and limited edition Guns N' Roses merchandise.