Lovestruck Festival is the first festival entirely dedicated to the theme of love in art and it proposes a full program of cultural events for romantics of all ages, from 24-26 March 2023, in Bucharest. From Maria Răducanu, Rona Hartner, and Analia Selis concerts, to salsa classes, award-winning film screenings, and contemporary theatre performances, to children's workshops and photo-poetic installations, Lovestruck Festival has prepared a multitude of free artistic events for the Bucharest audience. The project is organized by the Bucharest City Hall, through ARCUB – Cultural Centre of Bucharest and takes place in six locations in Bucharest: ARCUB – Gabroveni Inn, Eliad House, Red Theatre (The Hub), Bragadiru Palace, Green Hours, Combinatul Fondului Plastic (Senat Gallery).
Lovestruck Festival kicks off on Friday 24 March at ARCUB – Gabroveni Inn with the opening of the fine art photography exhibition "Love Revisited: A Photographic Homage to the Old Masters". The exhibition is signed by the award-winning artist Claudiu Guraliuc from Cluj and can be visited until Sunday 26 March in the Sala Bolților in the basement of the cultural center at 84-90 Lipscani Street. In the same location, in the foyer of the Gabroveni Inn, the artist Rozana Mihalache is exhibiting the artistic installation of photographs and poetry "A woman inhabited. 18 texts of love and none of war".
At the Eliad House, Lovestruck Festival has prepared daily dance classes and film screenings. Lovestruck for Kids includes weekend activities at Casa Eliad on Saturdays and Sundays with theatre performances and creative workshops for the little ones.
And because the Lovestruck Festival couldn't miss the way love is expressed in theatre, the audience is invited to choose from the three shows performed on the stage of the Red Theatre – The Hub and the Saturday and Sunday performances at the Eliad House.
In terms of music, Lovestruck Festival delights us with piano recitals at Eliad House, and jazz-themed concerts at Green Hours with artists Ana Dubyk & Sian Brie, Sorin Romanescu & Tavi Scurtu.
Among the most awaited moments of the edition, three stars of Romanian music warm up the romantic atmosphere of the festival with a concert every night of the event. The well-known Argentinian artist Analia Selis is the star of the first day of the festival with a concert at the Bragadiru Palace "Tango, a love story". On Saturday 25 March, the exuberant singer and actress Rona Hartner will celebrate her 50th birthday on the Lovestruck Festival stage at Combinatul Fondului Plastic with an incendiary concert with the Hopaaa dance troupe. The last concert of the festival takes place at ARCUB – Hanul Gabroveni where the beloved artist Maria Răducanu will sing the most beautiful songs about love.
The following is the schedule for the Lovestruck Festival in Bucharest: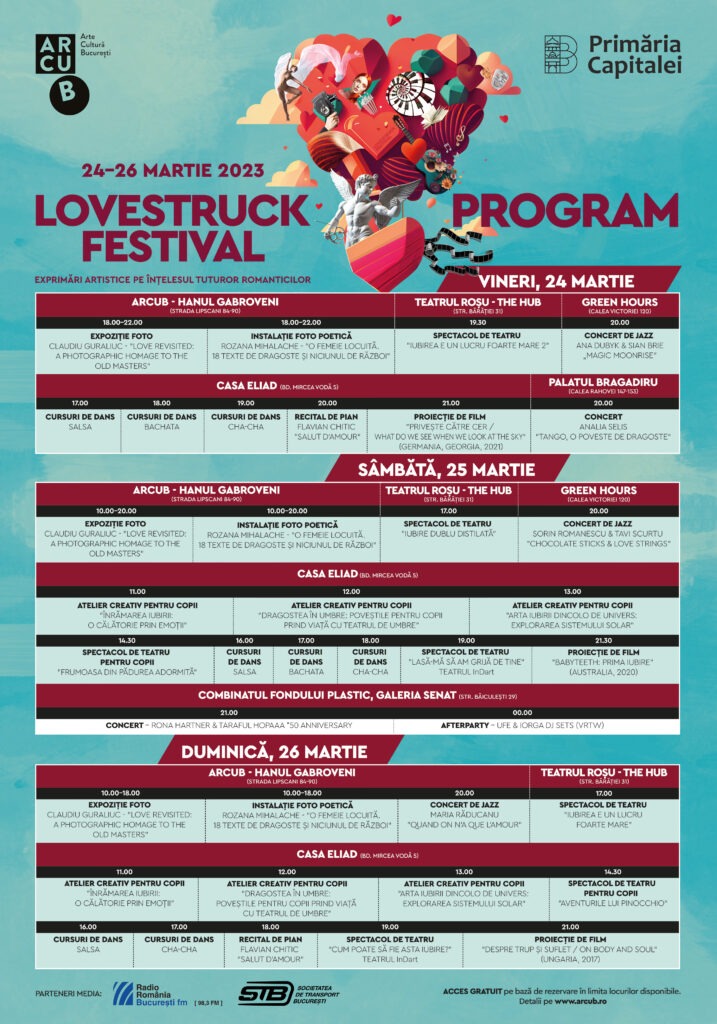 Access to Lovestruck Festival events is free and by reservation, subject to availability. Details coming soon.
Organized by the City Hall of Bucharest, through ARCUB – Cultural Centre of Bucharest and the Directorate of Culture, Education, Tourism