Saga Festival kicks off on June 3 with a great concept that includes thousands of square meters of LEDs, lights, and special effects.
The second edition of SAGA begins in just four days! The festival brings an electrifying concept based on imagination, transformation, and energy to the National Arena and its park. Festival lovers will be transported into a world of creativity and innovation on June 3, 4, and 5.
Preparations are almost done, and the stage is waiting for the artists to perform and for techno music lovers to come to the hottest festival in Bucharest: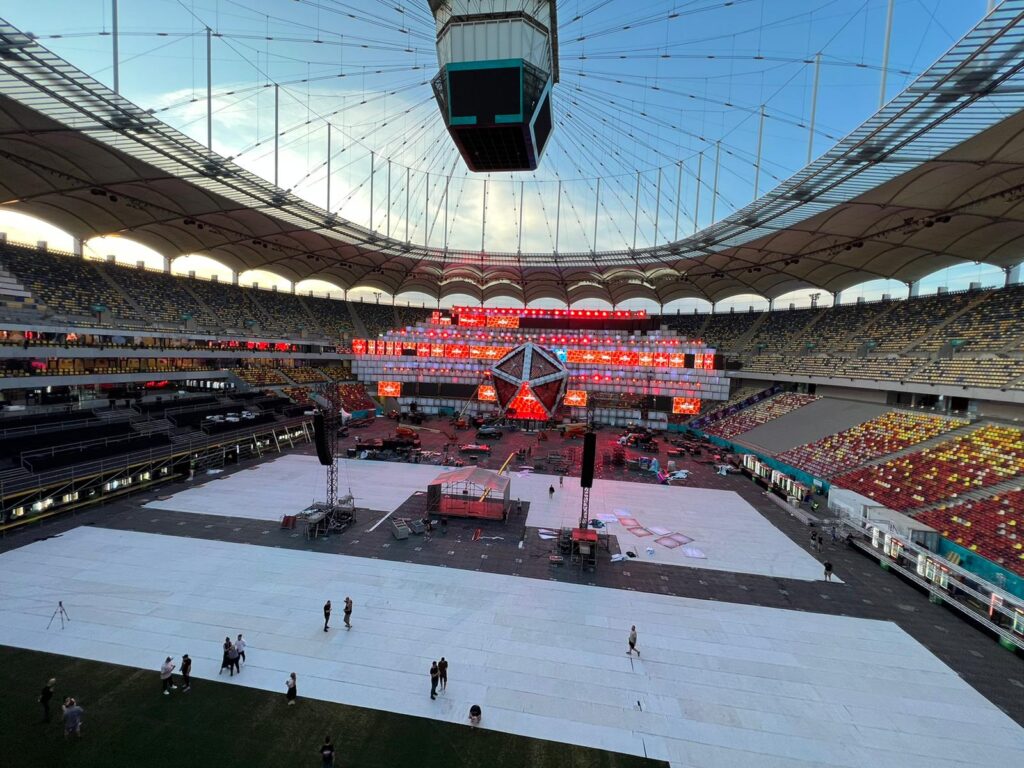 SAGA is based on freedom, a place where people can recharge their batteries, live their dreams with friends, and form special bonds with their favourite artists. This year, the entire concept has been elevated; there will be more scenes, more grandiose, more activation spaces, and installations for festivalgoers to enjoy over the three days.
What artists will perform at SAGA Festival?
The organizers of Saga Festival 2022 announced that on the first day of the festival, on June 3, 2022, Acraze, Aya, Deadmau5, Mike Williams, Ofenbach, R3hab, Timmy Trumpet, and Vali Bărbulescu will appear on the main stage. Black Coffee, Fisher, Honey Dijon, Moonsound, Sven Vath and The Model will perform on the Heat stage. Brad Brunner, Cloonee, James Hype, Lee Foss, Sllash & Doppe and Tini Gessler will perform on the Spark stage. Du Mad + Kov, Nopame, Tini Gessler and Vanotek will take the Drift stage, while CTC, DJ Nasa, Guess Who, Mitză, Moza Kaliza, Spike and Vlad Flueraru will take the Switch stage. Carol, Luca, Natasha Cri (DJ Set), NOTSOCOMMONDJ and Raphael Top Secret will be riding Bumper Cars.
On June 4, the second day of the festival, the artists who will perform are: Afrojack, Jax Jones, Joel Corry, Shouse, Sickick, The Stickmen Project, Tiesto, Topic and Vanotek Heat Scene: Adin, Alan Fitzpatrick, Edi P, Nicole Moudaber, Pan-pot and Reinier Zonneveld Live. Spark scene: Afgo & Lemon, Biscits, Dobrikan, Dom Dolla, Golan and Medusa Drift Scene: Dan Andrei, Edward, EMI Herodotus and Mathew Johnson Scene Switch: Du Mad B2B Capote, Dutu, Persic, Sandy Rivera and Vanilla Sunrise. Bumper Cars scene: Eddie Lanzat, Khidja, Matisa, Red Axes and Tiga.
On the last day of Saga Festival 2022, the program is as follows: Scene Source: Andi, Da Tweekaz, Elderbrook, Fedde Le Grand, Marshmello, Purple Disco Machine and Salvatore Ganacci Heat Scene: Baggi, Hot Since 82, Joseph Capriati, Pawsa and Soldardo Spark scene: Artbat, Camelphat, Coeus, Cotoraci B2b Kaisser and John Summit Drift Scene: Adrian Eftimie B2B The Gang Raw, Adrien B2B Christian Lepah, Optick, Oxia and Sylvio