Are you a fan of vibrant flavours, exotic spices, and tantalizing aromas that awaken your taste buds and looking for Thai Food Restaurants? If so, you're probably already in love with Thai cuisine, known worldwide for its combination of sweet, sour, salty, and spicy notes and its unique ability to turn even the simplest ingredients into a symphony of flavours.
If you're in Bucharest, the quest to find the best Thai food places becomes a delightful adventure filled with gastronomic discoveries. Our vibrant city is a melting pot of culinary delights, and Thai cuisine holds a special place in our gastronomic scene.
4 Thai Food Restaurants in Bucharest – Thai Cuisine Experience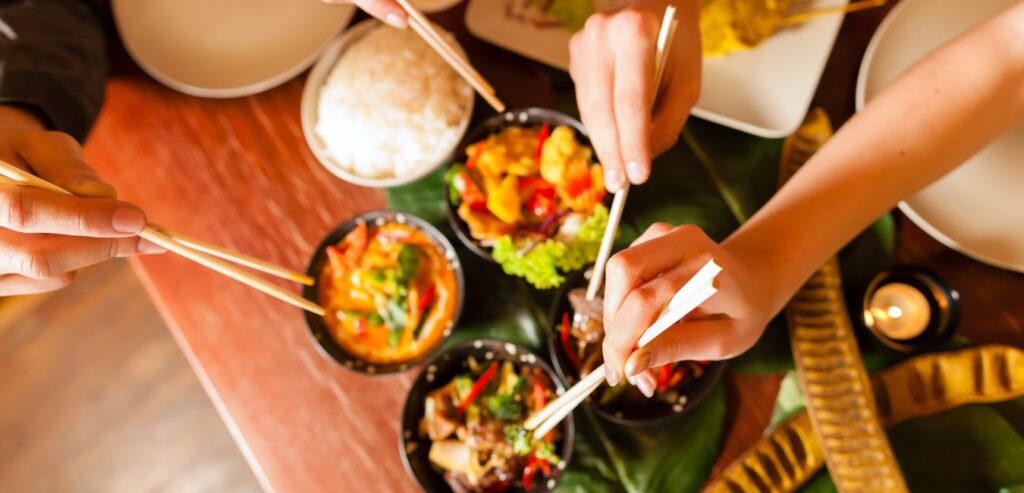 This year's Thai Festival whetted our appetite for Thai cuisine, which has many delicacies on the menu, so we'd bring some unforgettable sensations to your taste buds!
Choosing where to eat Thai food in Bucharest can take time and effort, given the abundance of eateries serving this world-renowned cuisine. But worry not! Our Thai food restaurants guide will take you through the city's top-rated Thai restaurants, each with a unique ambiance, authentic dishes, and an inviting atmosphere.
So, are you ready to embark on this culinary adventure and discover where to eat the best Thai food in Bucharest? Stay with us, and let's dive in.
ISAN
Nestled in the heart of Bucharest, ISAN Thai Kitchen is a gastronomic gem that offers a slice of Thailand's vibrant culture and culinary tradition. With its name inspired by the Isan region of northeastern Thailand, known for its unique and flavourful cuisine, this authentic Thai restaurant is a testament to the colourful tapestry of Thailand's gastronomic scene.
From its friendly staff to its meticulously curated menu, every detail at ISAN Thai Kitchen is designed to offer you an authentic Thai dining experience.
At ISAN Thai Kitchen, the rich dishes, brought to life by a skilled team of chefs, are much more than just a meal. They celebrate Thai heritage, a blend of fragrant spices, fresh ingredients, and culinary artistry that results in an unforgettable symphony of flavours. Whether you're a fan of the spicy, the sweet, the tangy, or the aromatic, there is a dish at ISAN that will tickle your taste buds and leave you craving for more.
Isan Restaurant Menu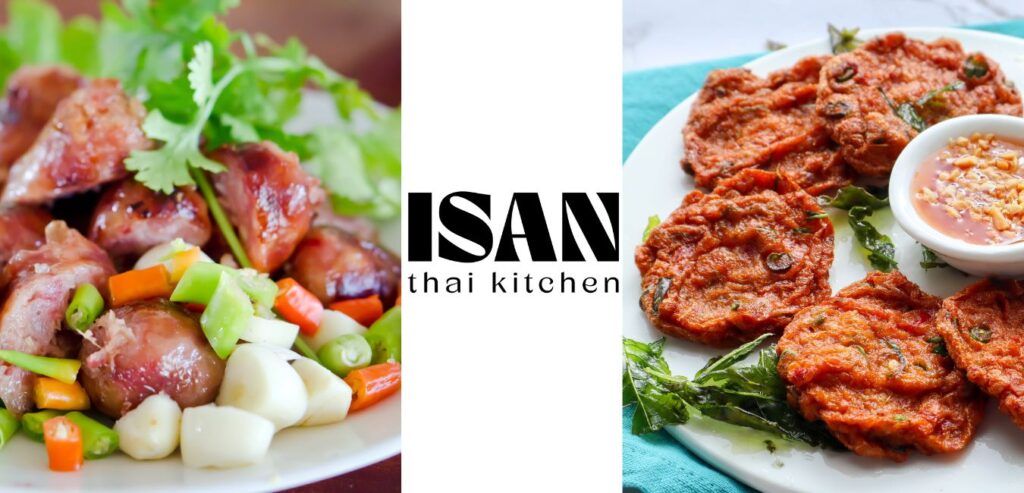 At ISAN Thai Kitchen in Bucharest, the menu is a vibrant testament to the culinary richness of the Isan region of Thailand. As you peruse the offerings, you'll see an impressive variety of dishes that sing with authenticity, starting with their tantalizing appetizers.
The classic Green Mango Salad is a must-try, with a refreshing mint and coriander taste. Also noteworthy is the Yum Woon Sen (Glass Noodles Seafood Salad), a seafood dish with a well-balanced and undeniably delicious taste. The menu also offers vegetarian options, such as Shitake Spring Rolls, ensuring no palate is left out.
When you move on to the main courses, the harmony of Thai flavours continues to shine. Iconic dishes like Green Curry (Kaeng Khiao Wan Kai) and Red Curry (Kaeng Phed Moo) demonstrate ISAN Thai Kitchen's mastery of Thai spices.
If you're a fan of noodles, the Phad Thai, a quintessential stir-fried noodle dish, is a crowd-pleaser with its perfect balance of sweet, sour, and salty. Not to be overlooked is the Pad Woon Sen, an incredibly comforting Thai-style fried noodle with chicken, broccoli, eggs, and chilli.
Desserts at ISAN Thai Kitchen provide a fitting end to a delightful Thai meal. The Khao Niaow Mamuang, or Mango Sticky Rice, is an irresistible classic, combining the sweetness of ripe mangoes with creamy, coconut-infused sticky rice.
ISAN Thai Kitchen's menu reflects the heart and soul of Thai cuisine, promising an unforgettable dining experience in Bucharest, as the restaurant is Romania's only Thai Select-certified restaurant.
Address: Mercato Kultur, 6-10 Gheorghe Demetriade Captain, Postal Code 011849
TUK TUK
Tuk Tuk is a Thai restaurant where Thai street food's bustling energy and rich flavors come to life. Inspired by the traditional tuk-tuks, and the iconic three-wheeled vehicles that navigate the vibrant city, Tuk Tuk – Thai Urban Kitchen is a culinary adventure like no other.
The lively chatter of fellow diners and the warm smiles of attentive staff all contribute to the Thai experience.
Tuk Tuk Restaurant Menu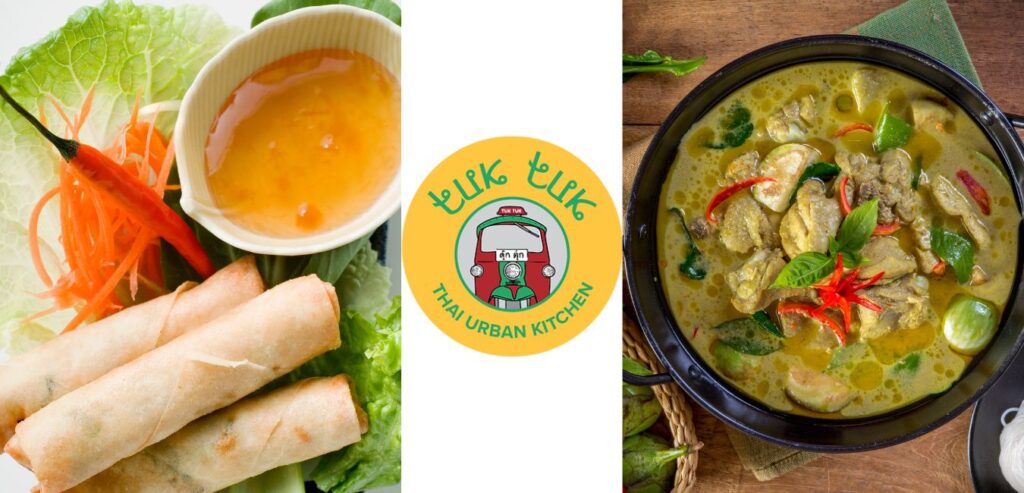 At Tuk Tuk in Bucharest, a restaurant known for its authenticity and dedication to serving up some of the finest Thai food in the city, you'll find a wide array of dishes that cater to all tastes and preferences.
Kicking off the menu, you'll find a variety of enticing starters, from the classic Edamame with beef, lettuce, pickle and tomato, Bao Buns with Pork/Duck/Chicken/Veggie, to Thai Spring Rolls, served with a sweet chilli dip, to the Panko Prawns, delicious shrimps in panko breadcrumbs and served with assorted sauces.
The selection of main courses continues to impress. Curries are unique at the heart of Thai cuisine, and Tuk Tuk is no exception. Their Green Chicken Curry, prepared with aubergines, bamboo shoots, and Thai basil, is a vibrant and aromatic dish with authentic flavours.
If you're in the mood for a noodle dish, their Pad Thai, a classic stir-fried rice noodle dish served with your choice of chicken, beef, or prawns, is a must-try. For fans of Thai street food, the Laab Gai or Thai-style fried rice with meat, egg, tomatoes, pineapple, cabbage and onions, offers a comforting, simple, and undeniably delicious option.
Regarding Thai desserts, try the Fried Icecream coated in a crunchy shell for a sweet, hot and crispy experience.
Whether you crave the fiery heat of Tom Yum soup or the delicate balance of Pad Thai, Tuk Tuk promises an exciting Thai gastronomic adventure.
Address: 15 Putul lui Zamfir Street, Postal Code 010588
Kunnai
At Kunnai Restaurant, every dish tells a story, blending traditional recipes with innovative techniques and the freshest ingredients. Whether you're a connoisseur of Thai delicacies, a lover of Thai spices, or an adventurer seeking vibrant flavors or delicious desserts, Kunnai's menu offers an exquisite journey through Asia's culinary tapestry.
Kunnai Restaurant Menu
Begin your epicurean journey with Kunnai's tantalizing starters, designed to awaken your palate and set the stage for an unforgettable dining experience. Indulge in the delicate, melt-in-your-mouth goodness of their Shrimp Tiles (Goong Grabueng), where shrimp is accompanied by zesty coriander and delightful garlic crunch or the Garden Wrap (Guay Teaw Lui Suan Phak), a dish noodle rice based, with fresh vegetables such lettuce, spring onions, cucumbers, carrots.
Also, for a taste of Thailand's fish delights, the Fish Spring Rolls (Por Pia Pla Yaowaraj) features a medley of lightly shitake mushroom and spring onions and is accompanied by a soya sauce that complements the flavors with a pinch of pepper.
As you delve into the soups offerings, Kunnai's menu reveals a symphony of flavors that celebrate the essence of Asian cuisine. Traditional Tom Yam Soup with Prawn (Tom Yam Goong Khun Chai) is a soup that consists of prawns, fish sauce, galangal, lemongrass, kaffir lime leaves and mushrooms. The soup has some chilli and coriander taste, adding lemon juice for a fresh ending.
Suppose you are not a fan of prawns. In that case, you can try Chicken in Galangal and Coconut Milk Soup (Tom Kha Gai Khun Ying), a symphony of tastes with chicken, galangal, lemongrass, kaffir lime leaves, mushrooms, coconut milk, chilli oil, lemon juice, coriander, and red onion.
Dive into their stir-fries selection, where the finest cuts of seafood are expertly crafted into extraordinary dishes that showcase the artistry of Thailand's culinary tradition.
Each bite is a sensory delight, from the classic Garlic & Pepper Crispy Prawn/Beef (Goong Rue Nue Grathium Prikthai), with garlic, pepper, oyster sauce and soya sauce, to the indulgent Stir Fried Chicken with Cashew Nuts (Raga Na Himmaphan), where a spicy chilli, garlic, capsicums, onions and different sauces erupt with flavor.
Venturing further into the menu, Thailand's culinary treasures beckon with their bold and aromatic dishes. Take your taste buds on an adventure with Kunnai's Pad Thai. This timeless Thai favorite combines stir-fried rice noodles with a medley of vegetables, tofu, and succulent shrimp or tender chicken.
The Green Curry transports you to the streets of Bangkok with its fragrant blend of Thai herbs, coconut milk, and tender meat or vegetables, creating a harmonious balance of spiciness and creaminess that will leave you craving more.
If you are a person who loves desserts, we recommend you take advantage of the desserts of the Kunnai restaurant. Kanom Bah Bin, Kanom Gluay (Banana Cake), and Kanom Morgaeng (Yellow Bean Custard) are some desserts not to be missed.
Address: 6-12 Copilului Street, Postal Code 012178
Thai Me
Prepare to embark on a culinary journey through the vibrant flavors of Thailand at Thai Me Food Truck. Their Instagram account is a tantalizing preview of the delectable offerings that await you. Thai Me presents an array of dishes that will transport you to the bustling streets of Thailand and beyond.
Thai Me Food Truck Menu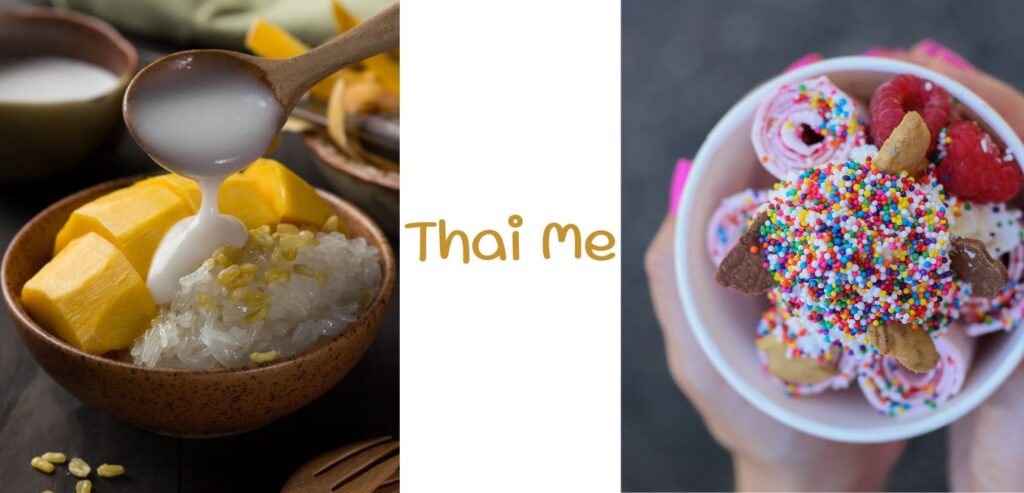 Thai Me's menu showcases eight Thai dishes, each bursting with vibrant colors and aromatic spices. Feast your eyes on their fragrant Green Curry. This classic Thai favorite combines tender chicken or pork with a rich and creamy coconut milk base infused with aromatic herbs and served with vegetables.
Thai stir-fried basil with pork or beef is another standout, where succulent meat is stir-fried to perfection with aromatic basil leaves, vegetables, and a medley of sauces, creating a harmonious blend of flavors that will leave your taste buds craving more.
You should consider Massaman Curry if you are craving a spicy dish. Made with tender chicken, potatoes and roasted peanuts, with aromatic curry sauce and jasmine rice, the dish is something you will never forget.
The courses that dance on your palate with bold and authentic flavors elevate the dining experience; Thai Me brings the essence of Thai cuisine to life with eight good dishes – Massaman Curry, Green Curry, Pad See Ew, Pad Thai, Thai Stir-Fried Basil with Chicken or Beef, Sweet & Sour Chicken Stir-Fried, Thai Crispy Chicken Salad and Thai Stir-Fried Rice.
You can choose steamed jasmine rice, egg, siracha sauce and sweet & sour sauce for sides.
Address: 15 Calea Grivitei (located in Food Hood) Postal Code 105178
Exploring the Flavors of Thai Food Restaurants: A Culinary Journey
Embarking on a culinary journey, searching for the best Thai food in Bucharest reveals a world of aromatic basil, fiery chillies, soothing coconut milk, and tangy tamarind.
From street food joints offering a taste of Thailand's bustling streets to elegant restaurants reminiscent of its royal cuisine, Bucharest has many Thai food restaurants where Thai food lovers can satisfy their cravings.
Whether you're a fan of the hearty Pad Thai, the spicy Tom Yum soup, or the comforting Massaman curry, you'll find that the Thai food scene in Bucharest caters to various palates.
Enjoy your meal! เจริญอาหารดี!