Bucharest Fountain Show will entertain the inhabitants of Bucharest again in 2022. This year the Water Symphony show changes to the music of ABBA, Cher, Ricky Martin and many others, plus classic ballads in the colourful lights of the fountains enhanced by the romance of the summer night.
After more than two-year hiatus due to the extended pandemic crisis, the artesian fountains in Unirii Square, one of Bucharest's most important points of attraction, reopened for the summer of 2022. With a beautiful multimedia show, the Water Symphony, as it is called, impresses the visitors and Bucharest's citizens.
Apa Nova, the Capital's water and sewerage provider, has invested more than 7 million euros in restoring the fountains in Unirii Square, helping transform the area into an urban attraction for both Bucharest residents and tourists.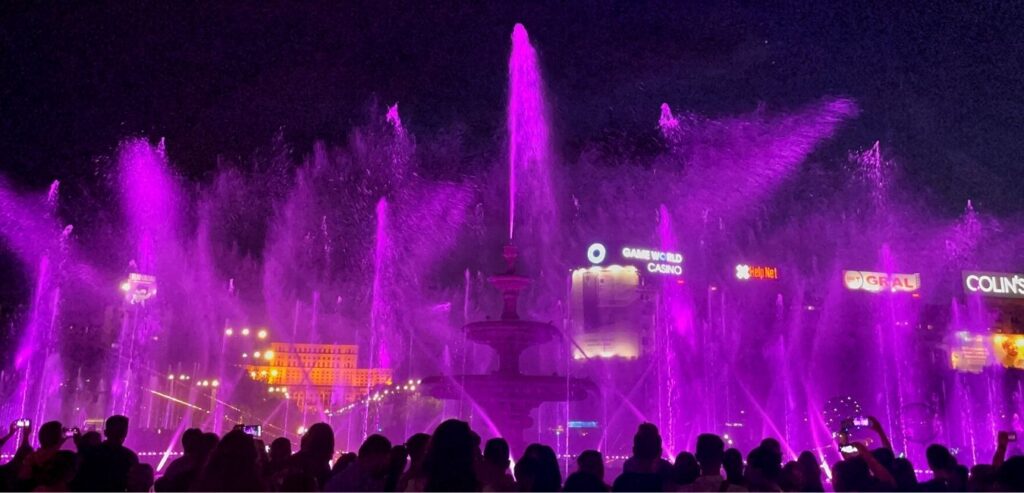 The fountains in Unirii Square will host multimedia shows from Friday to Sunday, beginning at 21:00, until the end of December. They have a variety of themes and songs chosen to enhance the magic created by the interaction of water and light. The shows last about 45 minutes and are free to attend.
The artesian fountains in Bucharest are the first urban fountains in Europe to benefit from cutting-edge water entertainment equipment and technology. Some elements are unique in Europe, such as the entirely digitally monitored system, allowing control of any individual unit of the 44 independent fountains. Unirii Boulevard is nearly 1.4 kilometres long in total.
The fountains in Unirii Square, built in the late 1980s, were recognized, approved, and published in 2019 by the World Record Academy as the Longest String of Synchronized Choreographic Fountains in the World, with a water surface of 16,200 m2 and are unique by their arrangement in the centre of the Capital.