The Romanian capital continues to redefine itself, merging its history with a modern identity. Get ready to explore Bucharest – Romania's capital and largest city, this time not only through our website, but also through our travel mobile app.
Known in the past as "The Little Paris," Bucharest has changed a lot lately, and today it has become a very interesting mix of old and new that has little to do with its initial reputation.
By living and working in Bucharest, Visit Bucharest Today! team noticed that the locals, used to the city's attractions, pass by the magnificent urban landscapes without even noticing or paying attention to them. That was when the idea of Visit Bucharest Today! app was born – a mobile app to be used both by the locals and (mostly) by the travel addicts coming to our beautiful Capital city.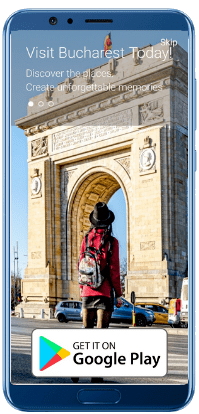 Therefore, Visit Bucharest Today! app wants to put Bucharest on the heart map of every tourist, local or curious people. It is basically a guide for spending time in Bucharest. You will be surprised to find that there are many beautiful places in Bucharest that are really worth visiting.
By downloading Visit Bucharest Today! App, you'll find out Bucharest has many things to offer at your fingertip:
different styles of architecture
great parks for outdoor fun
monarchist and communist history
impressive museums
great food, beer, and wine
lively nightlife
Also, our travel app recommends nice places and helps you discover the known and the hidden part of Bucharest.
From info about the coolest places in Bucharest to the most interesting museums and from the best events to shopping places, our platform helps the tourists to make the most out of any trip to Bucharest.
Our app will guide you through the 6 main categories: Attractions, Tours&Trips, Vibe, Shopping, Tips, and Top Bucharest. In these categories, you will find our well-structured content which varies from Museums, Historical Buildings to Coffee Shops, Restaurants, and One-day trips to different places.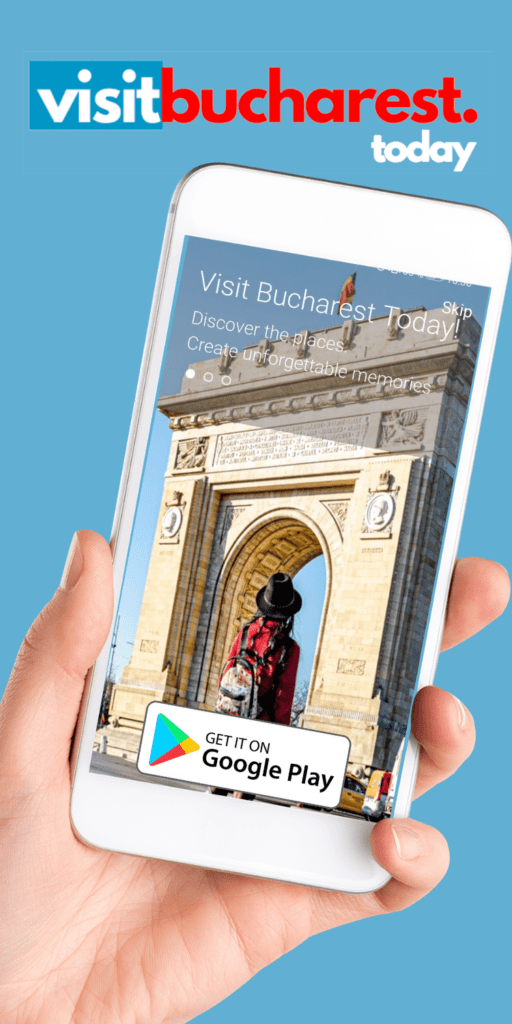 Tourists are free to choose from historical and cultural attractions, art shows, taking long walks in the Bucharest parks and museum visits, going to concerts, parties, and many more local experiences. Our mobile application has the purpose to help tourists to discover Bucharest.
In short, with our travel app we are trying to make you discover the best spots that Bucharest has to offer, this time easier and in an interactive way. Browse hand-picked lists of the best things to do in Bucharest based on where you are and where you're going.
Why our app makes the difference?
While on the Visit Bucharest Today app, you can discover not only Bucharest tours but also day trips from Bucharest. Beyond the capital, there are many other attractions you need to see with your own eye. The big advantage of a holiday in Romania is that you can reach very different landscapes and environments in a couple of hours.
Explore the best of Bucharest with Visit Bucharest Today! app :
Discover all the key Bucharest sights and attractions, including the Palace of Parliament, the Romanian Athenaeum, or the Arch of Triumph, as well as plenty of other hidden gems.
Explore Bucharest like a local with insider guides
Find out what's on in Bucharest, like the most important events in Bucharest
Search for things to see and do, including top tourist attractions in Bucharest – Our app has a special design and intuitive navigation and is completely free with no hidden costs.
The team that developed the whole concept is a truly dedicated group of young people in love with Bucharest – TUYA Digital Team. It's not their first project digitally crafted for the tourism industry and it's not their last, for sure.
So far, the app is only available for Android mobile devices, but an iOS version will come up in a short time as well.
❤️ Enjoy your stay in Bucharest!