APEX Speed Fest returns to Bucharest, in the Constitution Square, on the weekend of September 2-3, 2023.
Join the community of motorsport enthusiasts for an action-packed two-day event where speed, power and thrills take center stage. APEX Speed Fest – a real motorsport experience embedded in a festival that will take place between September 2-3 in Constitution Square, in front of the Palace of Parliament. You will have car exhibitions, circuit shows, children's activities, the opportunity to experience the fastest lap at the right hand of a professional driver, and much more.
Win a rally car on a raffle at APEX Speed Fest Bucharest
One lucky person will have the chance to win their very own race car. According to the FIA technical data sheet, one lucky participant will have the chance to win their own racing car, a competition-ready vehicle. The winner will be announced LIVE on the last day of the festival, on September 3. The tickets will be available on the event website, on the iabilet.ro network and at the event ticket offices – only those who take care of one of the following types of tickets by Saturday, September 2, 23.59 at the latest, participate in the raffle:
General Access subscription
VIP membership
VIP access 1 day (September 2)
VIP access 1 day (September 3)
*The official regulations of the "APEX SPEED FEST Raffle" promotional campaign can be found on the official website.
The reference brands of the models present at the event will be McLaren, Porsche, BMW, Ferrari, Lamborghini, and Rolls Royce. In the historical exhibition, it will be possible to admire cars prepared for competition (Lancia Fulvia, Audi S1 Group B, BMW 2002), but also impressive carefully restored or preserved models, such as Studebaker President Speedster, Studebaker Commander nicknamed and "Bullet Nose", Tatra 603 ., the 1972 Corvette C3 and the 1957 Corvette C1.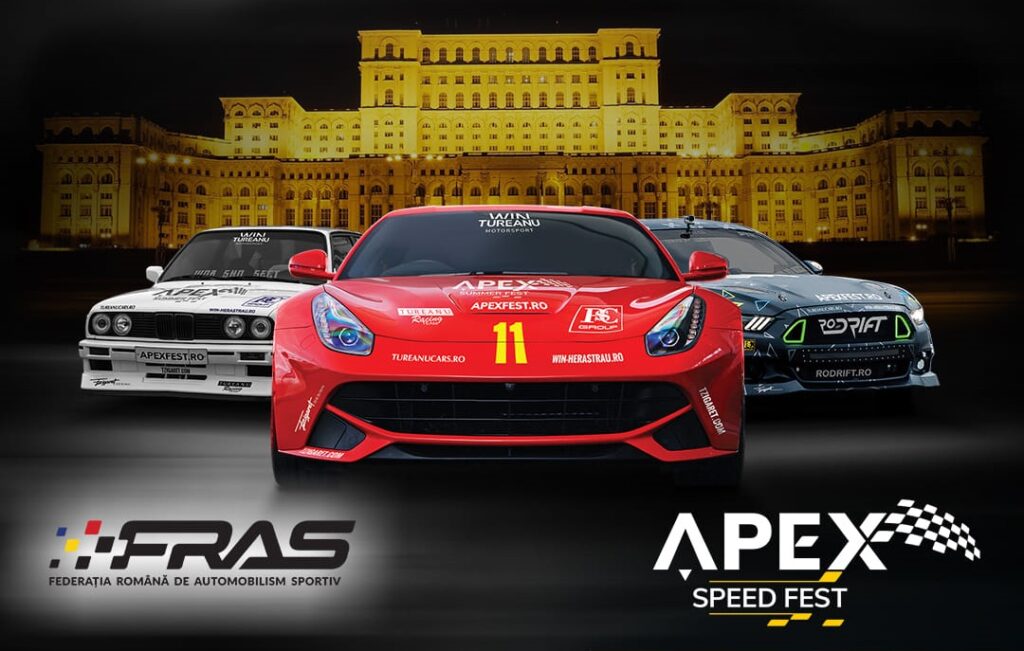 About WIN Tureanu Motorsport
WIN Tureanu Motorsport is an alliance of two entities that want to promote motorsport to another level in Romania. One of the organizers is rally driver Andrei Tureanu, who has been competing for a little over 20 years and currently contributes to this industry through his racing car development division and oldtimer car restaurant division. The passion for motorsport is also shared by the entrepreneur Cristi Pascu, the current CEO of PSC Group, the developer of WIN real estate projects and the founder of the art gallery WIN Gallery.
About RoDrift
RoDrift made drifting known as a sporting discipline and attracted an impressive number of spectators in an organized environment: the National Drift Championship, the biggest competition of this sport in the region. The story of RoDrift started in 2014. Thanks to its power, it took only five years for an enthusiastic amateur club to become a professional community, organized according to well-defined rules under the auspices of the Federation of Motor Sports and the Ministry of Youth and Sports.