Bucharest City Hall organizes the Bucharest Jazz Festival through ARCUB – the Cultural Center of the City of Bucharest. The 2023 edition, taking place between September 7-10, curated by Ana-Cristina Leonte, a famous voice of Romanian jazz, offers the public the freshest sound explorations in the sphere of contemporary jazz, from expressions deeply rooted in tradition to eclectic manifestations in which, under the magic of improvisation, electronic sounds, neo-soul, funk, hip-hop, rock, afrobeat and world music.
Musicians from Finland, Venezuela, Great Britain, France, the United States of America, Israel, Switzerland, Austria, the Netherlands, South Korea, Germany, the Republic of Moldova and, last but not least, Romania are coming to Bucharest this autumn and bringing the new vibrations of contemporary jazz on the stage at the Bucharest Jazz Festival.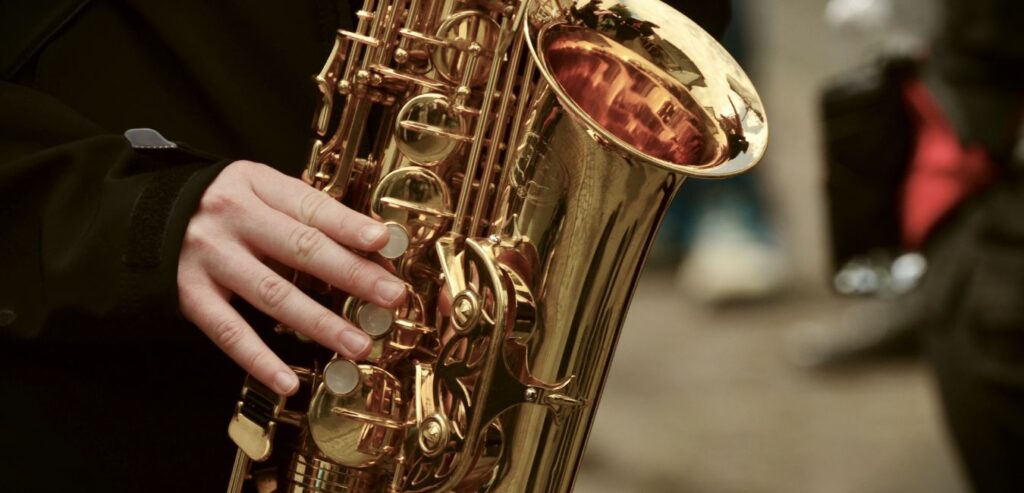 We invited artists and new projects that have not been on the festival stage before, and as for international artists, we invited names that have not performed in Romania before. Several new albums by Romanian artists from the country and the diaspora and by international artists will be presented. In the curatorial process, I considered the selection quality, the new music and the community's support, but I tried to maintain an overall vision, always with the audience in mind. The mantra I started assuming this role was "music for the people", this circular exchange musician-listener-musician that may sound trivial, but it is essential in this type of manifestation. I wanted the selection of artists to be attractive to the loyal audience of the festival, which year after year received its artists with unconditional warmth, but also to attract a new audience towards jazz music and the young audience.

Ana-Cristina Leonte, the youngest curator of the festival so far
Meshell Ndegeocello, the artist who has a Grammy award for Best R&B song and no less than 11 nominations, is coming to Romania for the first time and will present her latest album, "The Omnichord Real Book," new original material that explores his roots. An iconic figure in the world of music, Meshell Ndegeocello is known for her unique and versatile style that combines elements of funk, soul, jazz, R&B, hip-hop and rock in her creations and has performed with The Rolling Stones, Madonna, Alanis Morissette, James Blood Ulmer, The Blind Boys of Alabama, Tony Allen, John Medeski, Billy Preston and Chaka Khan.
The public will have the opportunity to feel his ability to transform sounds into real stories live on Saturday, September 9, at Combinatul Fondului Plastic. It will enter an extraordinary universe that bears the imprint of the unique way Meshell Ndegeocello transposes universally valid themes such as freedom and justice in a vibrant chain of harmonies and sounds.
The UK's leading Afro-Jazz group, Nubiyan Twist will perform on Sunday 10th, September. It will transform the Plastic Fund Combine stage into an energetic space for their infectious sounds heavily influenced by jazz, hip-hop, Afrobeat, Latin, Soul, Reggae and Dance.
Grammy-nominated saxophonist Ben Wendel, an established star in the sky of jazz and music, takes the festival stage on Friday, September 8, in the quartet formula, in a show of strength of the new trends in contemporary jazz, in which they intertwine irresistible rhythms of post-bop, classical music and post-rock. Professor at the prestigious New School in New York, his teaching activity is a constant of his career, with more than 300 masterclasses held at various colleges, universities and high schools, through which he inspired new generations of musicians. On Saturday, September 9, Ben Wendel will hold, at ARCUB – Hanul Gabroveni, Masterclass w/ BEN WENDEL, an intensive course dedicated to students and graduates of the jazz department, as well as musicians from the community. Participation in the masterclass is done only based on registration with confirmation at [email protected], within the limit of available places. The jazz community will be able to listen to Ben Wendel as a pedagogue, a role based on an impressive teaching record.
Big Band Radio Romania, under the baton of Tobias Hoffmann and soloist guitarist Vilkka Wahl (Finland), will present on Friday, September 8, the musical show "Conspiracy," a live interpretation of the latest album of the well-known German conductor, which also contains the composition gives the name to the whole show. Awarded at the Bill Conti Big Band Contest 2021, organized by the American Society of Music Arrangers and Composers in Los Angeles, "Conspiracy" is "one of the most challenging creations, for musicians and audiences alike," as its composer himself confesses.
Romanian jazz is represented at the festival by representative voices and instrumentalists of the genre. On Thursday, September 7, in the Gabroveni passage, the Mircea Tiberian Quartet, with Mircea Tiberian (piano), Nadia Trohin (vocals), Chris Dahlgren (double bass) and Claudio Puntin (clarinet/bass clarinet), offers the public the show "Now as Then," which includes own compositions of the group members, but also reinterpretations from older Romanian folklore. And the pianist Sebastian Spanache will offer music lovers, on the same evening, a captivating listening experience, premiering his latest album, "UPAMERCADO," at the festival.
One of the greatest guitarists in Romania, Sorin Romanescu, will open on Friday evening, September 8, at Combinatul Fondului Plastic, together with Anthony Gutierrez (drums) and Adrian Flautistu (double bass). Versatile musician approaching different musical genres, from rock, folk-blues and jazz to contemporary music, film soundtracks or music for contemporary dance performances, Sorin Romanescu proposes, in the trio formula, a recital with original compositions and themes of American jazz guitarists.
One of the most famous jazz singers of the new generation, Anita Petruescu, will perform on Sunday, September 10, at the Combinatul Fondului Plastic, together with Adrian Bifano (guitar), Miran Noh (piano), Johannes Fend (double bass) and Laurens Buijs ( drums). The artist who won the prize for the best vocal performance at the "Johnny Răducanu" International Jazz Festival and Competition 2018 will offer the audience an immersion in her compositions, characterized by colourful vocal lines, harmonic tensions, power dynamics, unexpected twists, distinctive sounds, hybrids, theatrical and folklore nuances.
Norzeatic & Qinta Spartă, Muntet, TajNic, the French collective Gin Tonic Orchestra, pianist Lukács Márton & drummer Debreci Norbert will also transform the Bucharest Jazz Festival into a musical bridge between various genres, with musical fusions of synthesized sounds, hip elements hop, funk, electronic, classical and contemporary.
Also, Bucharest Jazz Festival becomes, again this year, a platform for new collaborations and direct interactions between musicians through a series of jam sessions hosted on Friday, September 8, and Saturday, September 9, by Combinatul Fondului Plastic. International artists and local bands will improvise in the universal language of music.
Bucharest Jazz Festival Program: September 7-10, 2023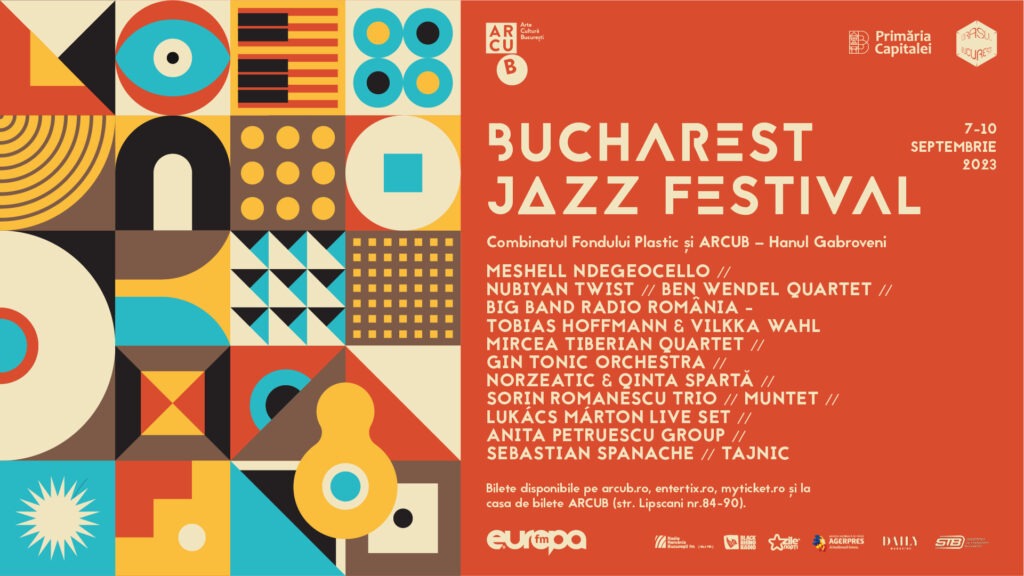 Thursday, September 7, 2023 | 19:00 – 21:00
ARCUB – Gabroveni Inn (Gabroveni Passage)
• Sebastian Spinach
• Mircea Tiberian Quartet – Now as Then
Friday, September 8, 2023 | 19:00 – 23:00
Combinatul Fondului Plastic
• Sorin Romanescu Trio
• Big Band Radio Romania / conductor Tobias Hoffmann / soloist Vilkka Wahl – Conspiracy
• Ben Wendel Quartet
Saturday, September 9, 2023 | 18:00 – 23:00
Combinatul Fondului Plastic
• Lukács Márton Live Set
• Mountain
• Norzeatic & Qinta Sparta
• Meshell Ndegeocello
Sunday, September 10, 2023 | 18:00 – 23:00
Combinatul Fondului Plastic
• TajNic
• Anita Petruescu Group
• Gin and Tonic Orchestra
• Nubian Twist
On September 8 and September 9, respectively, the concerts will be followed by a series of jam sessions.
Bucharest Jazz Festival – tickets
Starting on August 25, jazz lovers can purchase tickets valid for every day of concerts within the Bucharest Jazz Festival program, held between September 8-10 at the Fondului Plastic Complex. The most anticipated jazz event of the fall, Bucharest Jazz Festival will take place between September 7-10, at ARCUB – Hanul Gabroveni and Combinatul Fondului Plastic, and will bring, for the first time in the capital, award-winning and Grammy-nominated artists, established names of international jazz and Romanian jazz virtuosos.
Individual tickets for each of the three days of the festival at the Plastic Fund Complex can be purchased for 100 lei for the seating area and 75 lei for the general access area. General subscriptions (which provide access to all concerts during the three days of the festival at Combinatul Fondului Plastic) are now available at the following prices: subscription for three days with a seat – 250 lei; subscription with general access – 200 lei. Individual tickets and general subscriptions can be purchased online at arcub.ro, Entertix.ro, Myticket.ro, in partner stores and at the ARCUB ticket office (Lipscani Street 84-90). Individual tickets and general subscriptions are valid for the September 8-10 concerts at the Combinatul Fondului Plastic. Children up to the age of 10 have free access.