Disney 100 Years Anniversary Concert! People Entertainment Group, together with Mall4art, presents for the first time in Romania a 100% original Disney production. Disney 100 THE CONCERT.
This year, Disney celebrates 100 years! So, we are waiting for you to join us on a beautiful journey through the 100-year history of the Disney company.
In the Palace Hall on November 2, 2023, starting at 8:00 p.m., you will have the opportunity to watch on a huge screen legendary scenes from films that enchant our lives, such as Beauty and the Beast, Mary Poppins, Encanto, Frozen, The Lion King, Alladin but also the essential musical compositions from the Pixar, Star Wars and Marvel universes.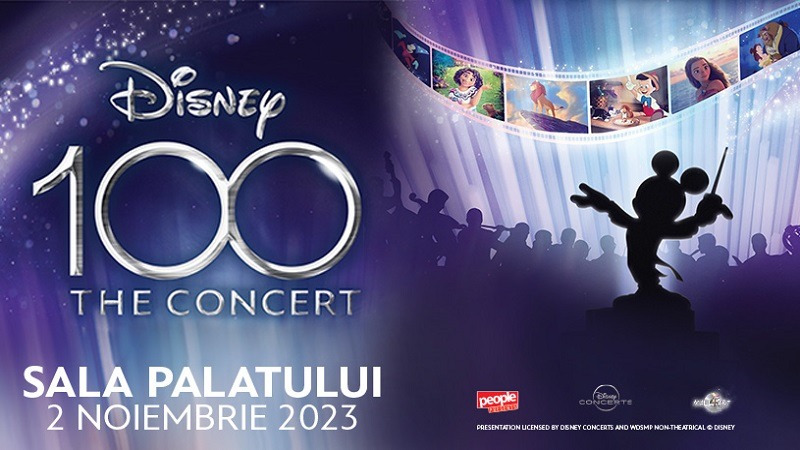 For a complete multimedia experience, the sound background will be provided by the Valahia Symphony Orchestra, composed of 65 professional instrumentalists together with established artists from West End London (Ben Forster, Nadia Boule) and with the special participation of the Romanian artists Alina Sorescu, Alina Eremia, Soprana Ana Cebotari and Tenor Vlad Mirita.
Since its founding in 1923, The Walt Disney Company has embodied fantasy, magic, extraordinary emotions, and dreams, lived with various heroes and heroines in fascinating worlds, all set to wonderful, award-winning songs and songs.
DISNEY 100 Anniversary Concert in Bucharest: Where, When, Tickets
The wonderful and magnificent world of Disney awaits you on THURSDAY, NOVEMBER 2, 2023, at the Palace Hall – Sala Palatului in Bucharest! Tickets can be bought from the following link.
Ticket cancellation and change policy
Changes are not allowed (to another day, time or place). Cancellations are not allowed. The organizer determines the cancellation and refund policy.