iMapp Bucharest, an event that unites art, technology, and community in the heart of Romania's capital, is back for another exciting edition this year. This festival is one of the most anticipated events in the city, drawing thousands of visitors from around the world to witness the magic of visual arts.
What is IMapp Bucharest?
iMapp Bucharest is an international video mapping competition held in Bucharest, Romania. Artists and technology enthusiasts gather to transform the Palace of the Parliament's facade into a vibrant canvas.
Through video projections, 3D animations, and sound, the event showcases captivating narratives that engage the senses. Bucharest City Hall organizes the event with the help of The Center for Creation, Art and Tradition of the Municipality of Bucharest (CREART).
iMapp Past Editions: A Look Back
The inaugural edition of iMapp Bucharest took place in 2014, marking a new era in Romania's visual arts scene. Since then, the event has grown exponentially, becoming one of the world's most significant video mapping competitions.
Past winners have set a high standard, displaying innovative works that merge art with cutting-edge technology. Themes have ranged from historical celebrations to futuristic visions, always captivating the audience with a breathtaking visual spectacle.
iMapp Bucharest 2023: What's New?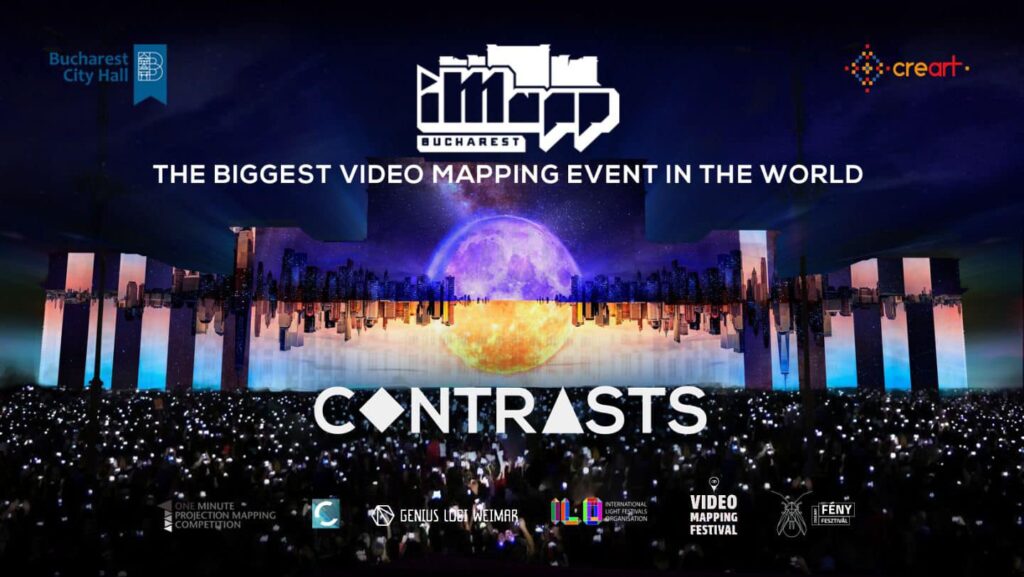 iMapp Bucharest promises to be bigger and better this year, with more artists and awe-inspiring displays. Here is what you can expect:
International Talents Artists from over 20 countries will compete, making this year's event more diverse and inclusive.
Innovative Themes: The 2023 edition will explore new themes, taking viewers on a visual journey like never before. The contest theme is CONTRASTS and will be creatively explored by the artists.
The contradictions you will see reflect our diverse and deeply human experiences daily. The differences we notice, like past-present, good-bad, light-dark, hint at how important it is to find balance in natural and emotional ways.
Sustainable Practices: In alignment with global trends, the event will incorporate eco-friendly practices, minimizing waste and promoting sustainability.
During the 12-hour event, people will enjoy a mix of music like DJ sets and live performances. There will be comfy relaxation areas, tasty street food, fun activities, and cool art installations for everyone to enjoy.
The public will admire the 3D works of some of the most valuable artistic teams in the world, winners of iMapp Bucharest partner festivals. These are Video Mapping Festival Lille from France, Genius Loci Weimar Festival (Germany), CosmoLights Projections Mapping (Greece), Zsolnay Light Festival (Hungary), and 1Minute Projection Mapping Competition (Japan).
If you plan to attend the iMapp Bucharest – Winners League, you must know that entry is free. Saturday, September 23, the capital of Romania, is going to light!
The iMapp Bucharest contest sets trends in Romania. It's the first big event of its kind in the country. It's also one of the six biggest contests like this worldwide. Being a part of the International Light Festivals Organization adds to its importance, and it has won awards from around the world.
iMapp Bucharest 2023 is set to be a memorable experience for art and technology enthusiasts alike. With a rich history of creative exploration, this year's event continues the tradition of inspiring the mind and uplifting the soul.
Whether you're a local or a tourist, iMapp Bucharest offers an opportunity to engage with visual art on a grand scale in the heart of Romania's vibrant capital city.
Don't miss this unique celebration!