The National Museum of Natural History "Grigore Antipa" announces the opening of a new temporary exhibition of live tropical butterflies in the greenhouse in the museum's courtyard. If you want to meet the exhibition stars, you are invited to discover "Who flies among the flowers, in a zigzag so many times?" in the garden of the Antipa Museum, between June 24 and September 11, 2022!
The exhibition allows you to closely observe representatives of a group of animals with a fascinating way of life and to admire the richness of colours and shapes characteristic of butterflies in tropical areas.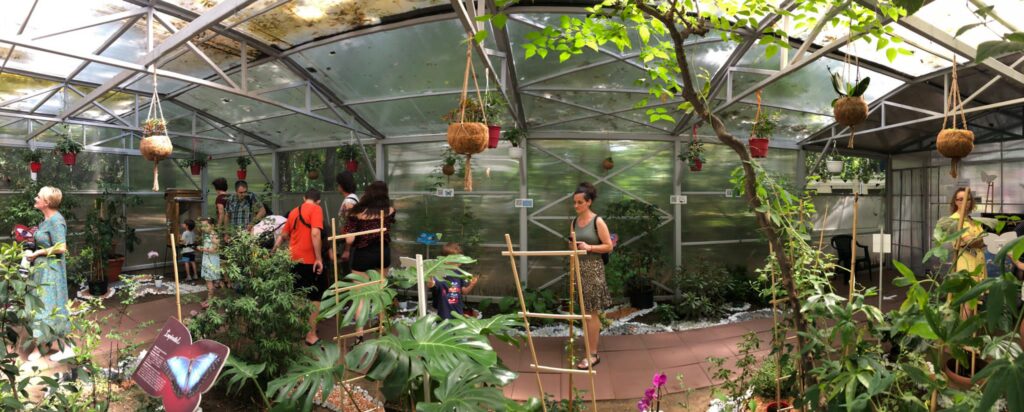 In the greenhouse in the courtyard of the museum will spread its wings the emperor butterfly (Morpho helenor), the butterfly tail of the emerald swallow (Papilio palinurus), the velvet rose (Pachliopta kotzebuea), one of the species in the group of spectacular owl-headed butterflies ) etc.
The exhibition at the National Museum of Natural History "Grigore Antipa" offers the public the chance to admire species that in nature can be seen flying in the upper part of the canopy of trees, many meters above the ground, such as the malachite butterfly (Siproeta stelenes). At the same time, visitors will have the opportunity to watch the elegant flight of lacy-winged butterflies (Cethosia sp.), As well as the scarlet Mormon butterfly (Papilio rumanzovia), or the jay butterfly (Graphium agamemnon).
Those who cross the museum will have the chance to witness some emotional moments, such as the "birth" of butterflies, when adult insects leave the chrysalis shell and begin a stage of life utterly different from that during the larval period.
Although none of the species present in the exhibition is threatened by extinction, the beauty and fragility of living exhibits draw attention to the need to preserve these delicate insects and their relatives in our country through specific measures tailored to each case.
The price of an entrance ticket is 15 lei (EUR 3.04) for adults and 10 lei ( EUR 2.02) for children, students and pensioners.
The "Grigore Antipa" museum welcomes the public with an advantageous offer: the joint ticket to visit the temporary exhibitions "Who flies among the flowers, zigzagging so many times?" and "Hidden Creatures." The price of this ticket is 25 lei ( EUR 5.06) for adults and 15 lei (EUR 2.02) for children, students and pensioners.
Children under the age of 3 have free access to the two exhibitions. Tickets can be purchased at the museum reception and online through: https://antipa.iabilet.ro/, or www.iabilet.ro.
The exhibition of live tropical butterflies can be visited from Tuesday to Sunday, between 10:00 and 18:00 (the last visitor enters at 17:30).
The butterfly greenhouse is adapted to the needs of several categories of the public. For visitors with special needs, check here about the facilities for visiting and accessing the exhibition.
Ready to visit Bucharest?