Trifoi Fest returns to Bucharest after a one-year break between September 15-17. The festival will take place at Malmaison, on Calea Plevnei no 137C. In 2021, the festival took place in the beautiful Cotroceni.
What is Trifoi Fest?
The organizers claim that the Trifoi Fest is an experiment through which a holistic approach is tried on any event organization's impact on the environment. They want to aim for a circular, local, organic, vegan, ecological and resilient festival.
Their mission is to bring together creators, consumers, workers, activists, and people, in simple words, who have a common goal – that of living better with less.
Trifoi Fest will present exhibitors with businesses from the sphere of the circular economy, with products from seasonal, organic and non-toxic local ingredients and resources for a better life. In addition, you will have vegan food and non-food products, all with one goal – adapting to the ecological crises of water, energy, resources, biodiversity and climate change.
Let's see what the Trifoi Fest organizers have prepared for local and foreign visitors.
Things to see at the festival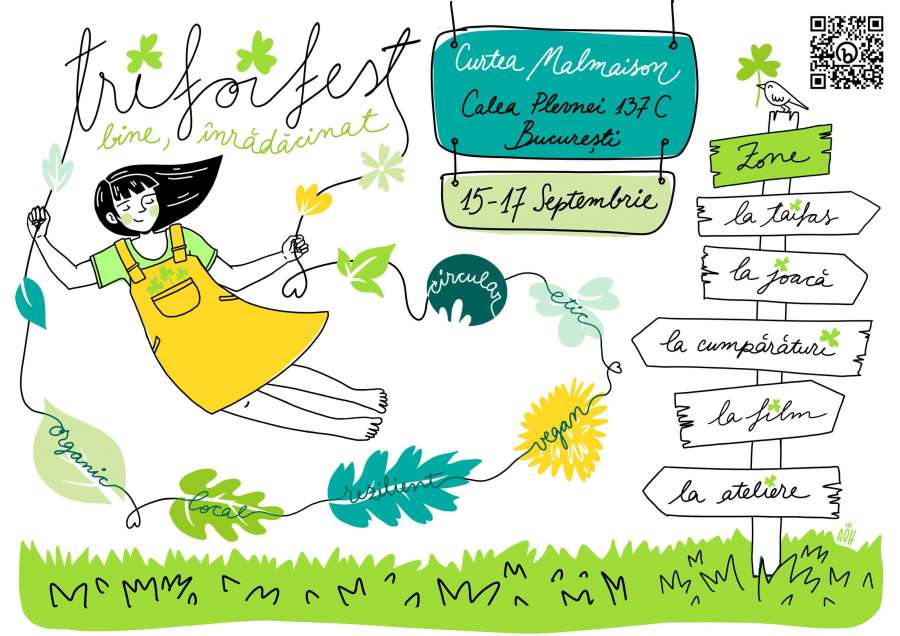 You have about five areas of the festival to explore.
Workshops
You have a very fine area for culinary creation, care and decorations, where you learn to make the necessary things. You can venture into different activities at the workshops. So, you can participate in a conscious movement workshop (Safe in My Body), a Body music, stretching and relaxation workshop, or, if you are passionate about skincare, you can participate in a natural cosmetics workshop.
Movie
The next area you must consider at Trifoi Fest is the projection area with documentaries and artistic films. The films will be shown in the evening, starting between 20:00-20:30, and the list includes names such as Fairytales of Growth, Metamorphosis and L'effondrement.
Shopping area
The organizers did not forget the special area for gourmets with sustainable food, drinks, products and services. So, among the vegan food producers are Throwback Coffee, Lorelicious, Indivan, Toni Gelato, Healthy Bites, bio&co, Maktoob Brewing, Herb Explorers, Sol and Suflet.
Furthermore, well-known environmental NGOs and organizations that contribute to the common welfare will also take part: Food Waste Combat, Ateliere fara frontierie, Urban cultor, Intre vecini, Cooperativa de energie, Ecoteca, Olio, Activero, Swing Steps Bucharest, Think Healthy and many others.
Also, in this area, you will find producers and artists who make circular products with minimal impact on the environment, vegan and with respect for nature, such as ALTRNTV, Magazin Zero Waste Bucuresti, Seneca Ecologos, Casuta cu lavanda, Panseea, Atelier Merci, Babylon Garden.
Debate area
For those interested in debates, Trifoi Fest brings podcasts and videos on several topics of interest: colonialism and capitalism on the world, the topic of decline, anti-speciesism or climate justice. Later, discussions will be held based on them about adaptation to the ecological crisis and resilience.
Kids corner
Well, Trifoi Fest doesn't forget children either, who have an area dedicated to them, with unique spaces for playing, learning, reading, sports and creativity, which teach the little ones about nature. You can delight the little one at the musical Sezatoare with Claudia, a creative Workshop where motor skills, creative thinking, rhythm, imagination, teamwork, and adaptability are developed.
Also, in the children's area, there is Eco Art Discovery, a quest that uses environmentally friendly tools to teach children practical ways to protect nature. This workshop revolves around a captivating story and a mission that he must solve.
How do you prepare for Trifoi Fest?
It's simple: the organizers have pointed out three important aspects with a low negative environmental impact that you should consider for the festival. So, to get to the festival you are encouraged to come by bike, scooter or use public transport and bring a plate, cutlery and glasses from home. One last crucial aspect is to avoid the production of non-compostable waste at the festival.
How does an environmentally friendly festival sound to you? 🙂