If you're searching for the best cafes in Bucharest, you're in for a treat. As ardent coffee researchers, we've scoured the charming streets of Bucharest to unearth the hidden gems that house the most exceptional brews.
Coffee time is maybe the most exciting part of the day, but we perceive it as a ritual. Staring your day with a good coffee or enjoying it with friends while you visit Bucharest sets your mood.
Picture this: the tantalizing aroma of freshly roasted beans, the cozy ambiance that wraps you like a warm hug, and that first sip of meticulously crafted coffee. Perfect!
Top 10+1 Best Cafes in Bucharest
Through extensive research and recommendations, we've compiled a delightful list of coffee spots to make your taste buds tango joyfully.
Grab your favourite mug, and explore the crème de la crème of coffee shops in Bucharest!
Camera din față (The front room)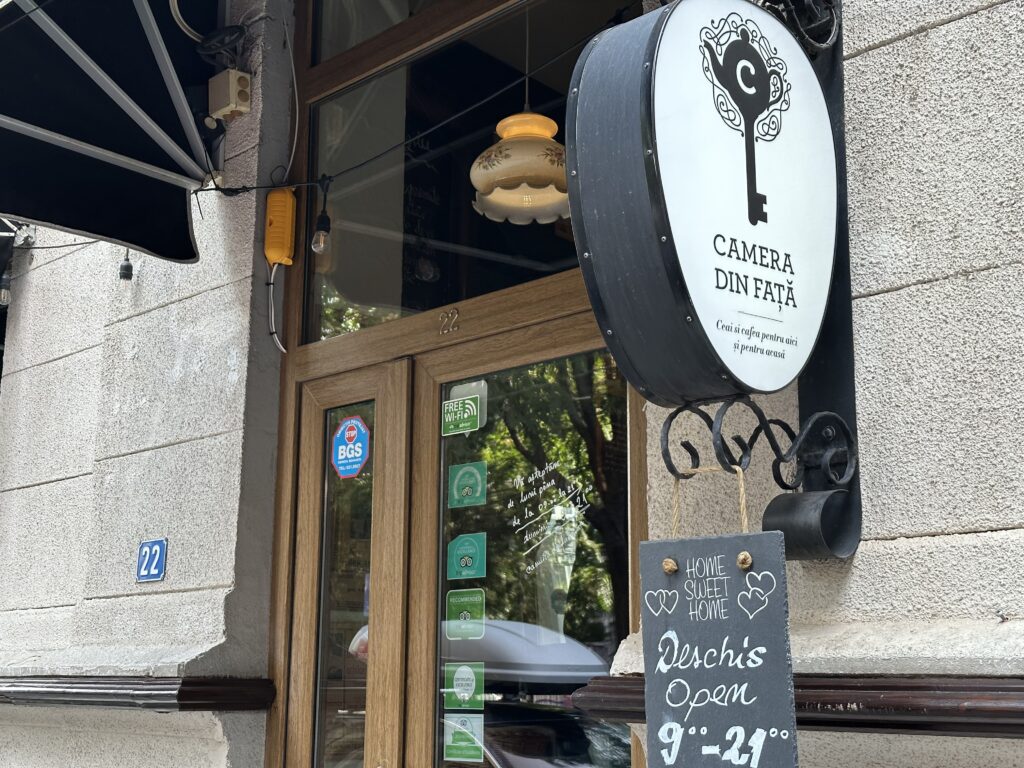 Camera din față is the Romanian for The Front Room. It is more than a coffee shop, so this is why we also included this concept in our Best Tea Houses in Bucharest. They define themselves as a funky apothecary-like coffee & tea shop with an extensive assortment of sweets, garnishes & accessories.
Camera din față is about a particular connection between the staff and the customers. When reviewing the place, we were about to postpone our visit, as we saw all seats were taken. We were told that there were more seats in the back room, so we chose that one. Actually, we realized we were lucky, as the back room is the one to connect you to that particular sort of feeling you have when you visit an old traditional house in the countryside.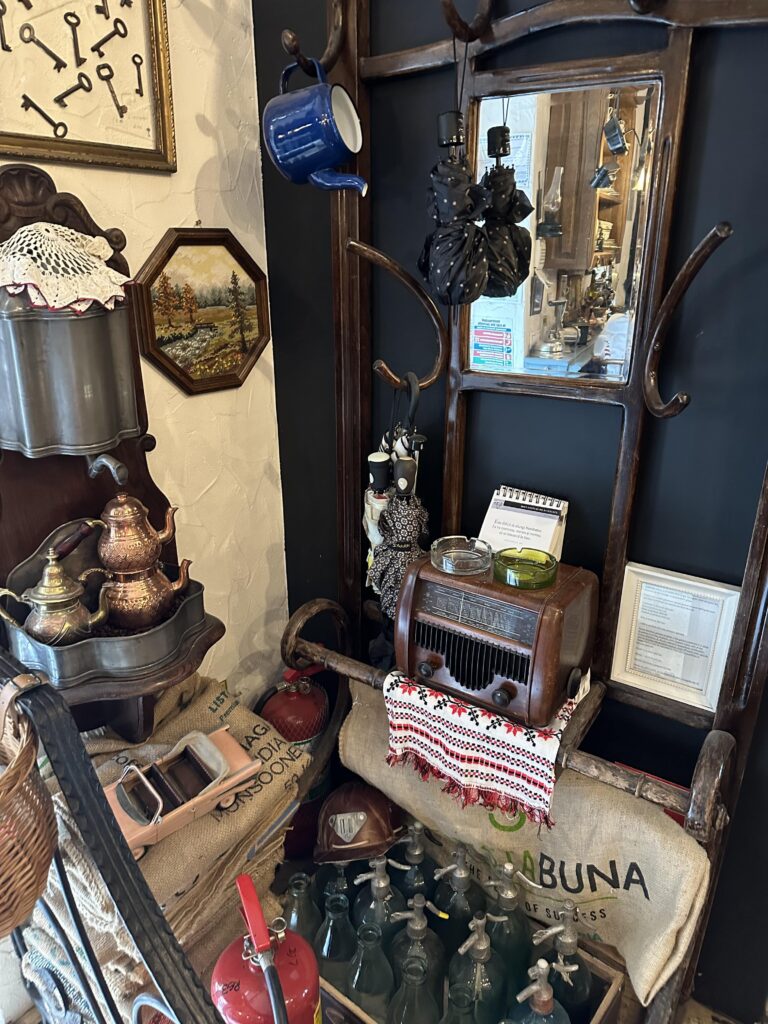 Foreign travellers might understand more about Romanian traditions and old houses by entering Camera din Față than by visiting the famous Village Museum. Because this coffee house is actually an old building decorated with everything you can still find in your grandpas' attic.
From an old radio to old paintings and from antique decorations to an industrial coffee beans roaster, this place has pottery, old china dolls, sewing machines, embroideries, cookie jars, books, old vinyl records and many more.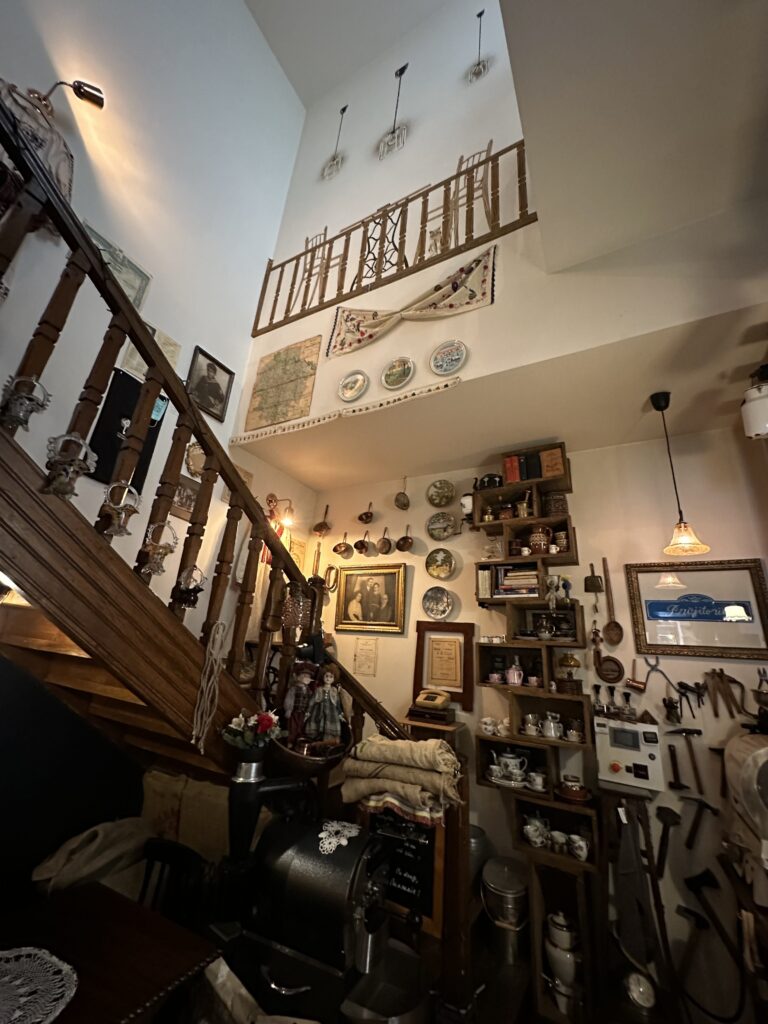 But it's not only the style that makes you choose this place. It's also about the quality of the coffee and tea, the pies and every house-made cake they offer you. It's also about the warm friendliness and genuine dedication to customers of the staff, which makes it the best coffee place we recommend to international travellers visiting Bucharest.
Opening Hours at Camera din Față
Monday – Sunday – 9 AM – 9 PM
Location: D. I. Mendeleev 22, Bucharest
Perfect Simplu Coffee Shop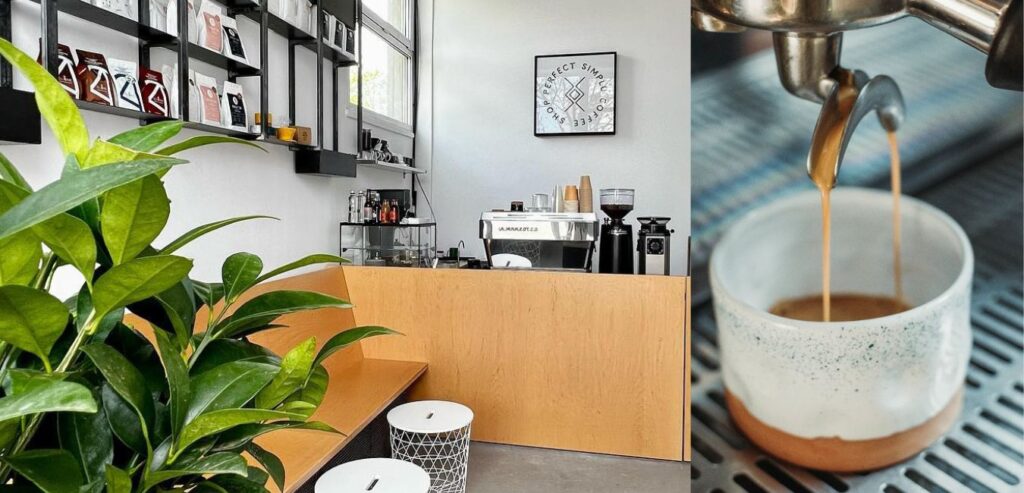 If you're searching for a coffee haven that effortlessly combines simplicity with the art of brewing, look no further than Perfect Simplu Coffee Shop. This charming café has become a hidden gem for coffee enthusiasts.
What truly sets this coffee shop apart is its dedication to its craft. The baristas here are passionate and well-versed in the art of coffee brewing. They meticulously select top-notch beans from ethical sources, ensuring that each cup is a testament to their expertise. Their coffee offerings cater to various palates, from classic espressos to exquisite single-origin pour-overs.
Upon entering, you're immediately enveloped in freshly ground coffee beans' rich, aromatic fragrance. The ambiance is warm and welcoming, with a rustic touch that sets the perfect backdrop for a relaxing coffee experience. Whether you're catching up with friends or enjoying some peaceful alone time, Perfect Simplu Coffee Shop offers the ideal setting.
The menu is split into Espresso Based Drinks, such as Espresso, Cappucino, Flat White, Cortado Latte and Brew Drinks: Aeropress, V60, Kalita and Cold Brew.
Open Hours at Perfect Simplu Coffee Shop
Monday – Friday – 8 AM – 5:30 PM
Saturday – Sunday – 9 AM – 5 PM
Onest Coffee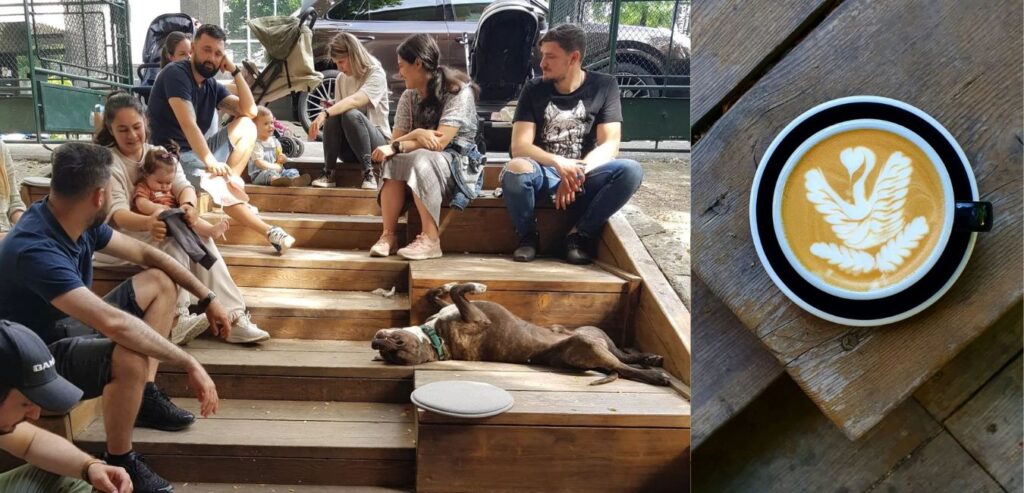 Its pet-friendly policy sets Onest Coffee Shop apart, allowing you to enjoy coffee with your beloved four-legged companions. The cozy and friendly space makes it ideal for relaxing with your pets.
Now, let's talk coffee! Onest Coffee Shop leaves no room for disappointment with its diverse range of espresso-based drinks. Whether you prefer a bold and robust single shot or the rich intensity of a double shot, their espresso offerings will awaken your senses. Or maybe you are in the mood for a latte, cappuccino or a flat white?
Also, coffee enthusiasts can explore the delicate flavors of v60 pour-over or the rich intensity of Aeropress-brewed coffee. And for those hot summer days, their cold brew and nitro coffee are the ultimate refreshing picks.
If you have a sweet tooth, their delectable desserts are a must-try. From delicious cakes to delightful pastries, each treat is a delightful accompaniment to your coffee of choice. For tea lovers, Onest has got you covered too! Their thoughtfully curated selection of teas offers an alternative for those seeking a change from their usual coffee routine.
The cherry on top: if you fall in love with their coffee (and you most likely will), you can take some home with you! Onest Coffee Shop offers coffee beans for purchase, so you can enjoy the goodness of their brews from the comfort of your home.
Open Hours at Onest Coffee Shop
Monday – Friday – 8 AM – 6 PM
Saturday – Sunday – 9 AM – 5 PM
Utopia Coffee Bar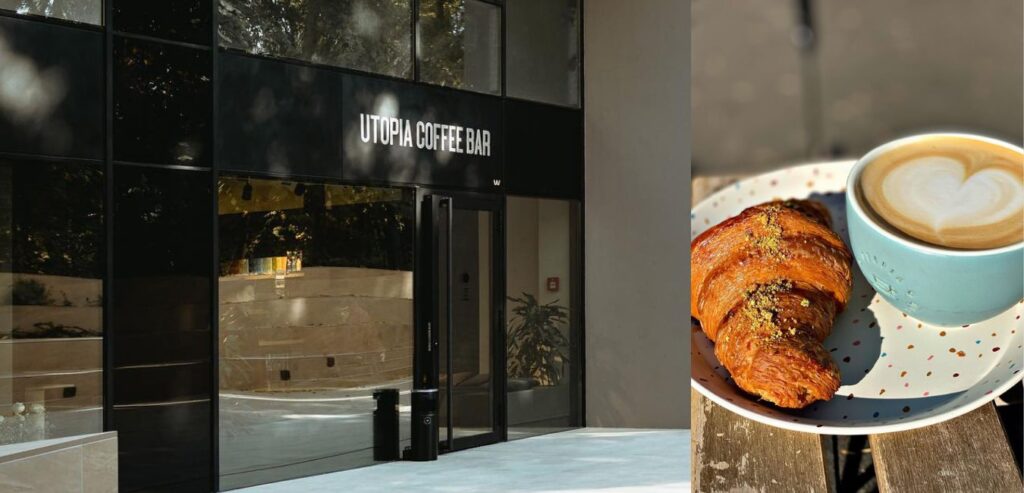 In the bustling city of Bucharest, Utopia Coffee Bar stands tall as an oasis for coffee enthusiasts seeking the perfect brew. With not just one but three locations across the city, this coffee haven has earned a devoted following for its exceptional coffee, delightful teas, fresh pastries, and unique offerings that extend beyond your typical coffee shop experience.
As you step into any of Utopia's locations, the cozy and inviting atmosphere immediately envelops you, setting the stage for a memorable coffee journey. What truly sets Utopia apart is its devotion to speciality coffee. From meticulously sourced beans to expertly crafted brews, their baristas take coffee brewing to an art form.
For tea lovers, Utopia has curated a selection of bio teas that cater to different palates. Whether you prefer soothing herbal blends or invigorating black teas, you'll find your perfect cup of tea at Utopia. Freshly baked, Utopia's pastries are perfect for your coffee or tea. Indulge in buttery croissants, decadent cakes, and other delectable treats that will leave your taste buds singing with delight.
Utopia it's not a typical coffee shop. Guess why? If you're in the mood for something extra special, how about pairing your coffee with a glass of prosecco? Yes, that's right! Utopia offers prosecco when you want to add a little bubbly to your coffee experience.
The pet-friendly policy at Utopia adds to the charm of this coffee bar. Bring your furry companions along, and you'll find that Utopia embraces them with open arms.
From the top-notch coffee and welcoming ambiance to the friendly staff, customers have raved about their visits, making it a must-visit destination for both locals and tourists alike.
Open Hours at Utopia Coffee Bar
Monday – Friday – 8 AM – 8 PM
Saturday – Sunday – 9 AM – 8 PM
Throwback Coffee & Stories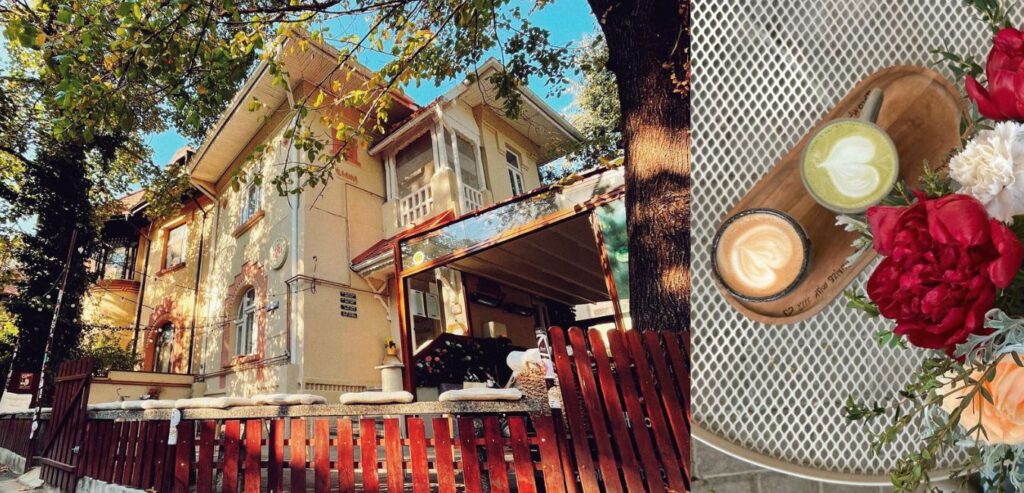 All visitors of Throwback Coffee find themselves immersed in a tale of bohemian vibes, all within the enchanting embrace of a special location. This beautiful house exudes classic charm and the unique elegance of Cotroceni, one of Bucharest's most beautiful and sophisticated neighborhoods.
Throwback Coffee & Stories serves specialty coffee and delightful pastries and offers a selection of salty and sweet snacks and an excellent range of local wines. For those who like fresh air, the spacious terrace on the side of the house provides the perfect spot to savor your coffee.
You can enjoy a delightful drink menu that includes Flat White, Hot Chocolate, Cappuccino and many coffee-based drinks. Among the most loved snacks at Throwback Coffee, it counts Quiche, Banana Bread, Chocolate Cake, Butter Croissant, Peanut butter Cake and Homemade cake with various flavors.
Whether you seek a caffeine fix, a savory quiche, or a sip of fine wine, Throwback Coffee & Stories has it all, making it the perfect spot to unwind, reminisce, and create new memories in the city's heart.
Open Hours at Throwback Coffee & Stories
Monday – Thursday – 8 AM – 8 PM
Friday – Sunday – 9 AM – 9 PM
Beans&Dots Speciality Coffee Shop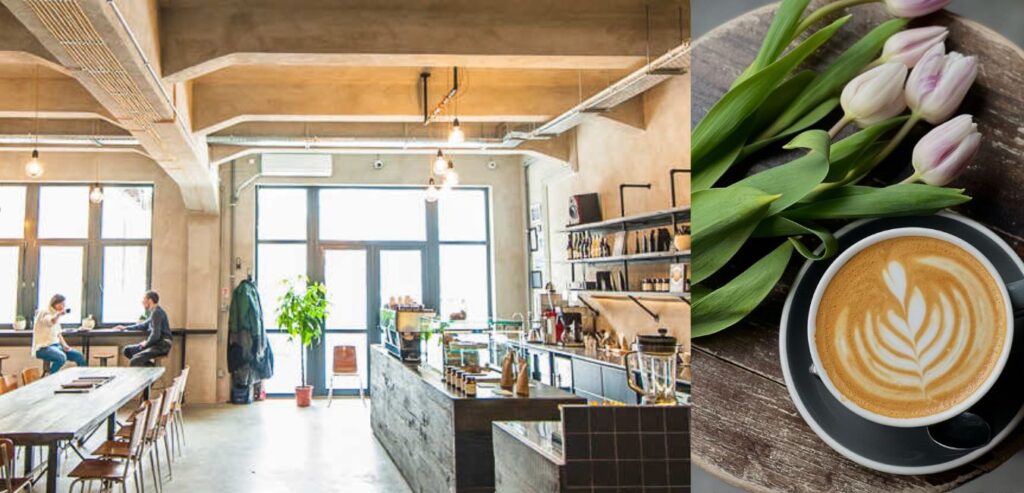 Welcome to Beans&Dots, a true coffee paradise and one of Europe's finest specialty coffee destinations. As you step into this cafe, you're greeted by the inviting aroma of expertly brewed coffee that promises a coffee experience like no other. Renowned for its commitment to excellence, Beans&Dots proudly serves coffee sourced from The Barn Berlin, a renowned coffee roastery known for its exceptional beans.
With not only one location in Bucharest, Beans&Dots Coffee Shop has become a beloved spot for coffee enthusiasts who appreciate the artistry and dedication behind every cup. The attention to detail is evident in every aspect, from the carefully selected beans to the precise brewing techniques that result in a rich, flavorful cup of coffee.
The baristas at Beans&Dots are passionate storytellers eager to share the tale behind every coffee blend. Their enthusiasm and knowledge add to the delightful experience, making your visit to Beans&Dots more than just a coffee stop; it's an entire journey.
Open Hours at Beans&Dots
Monday – Friday – 8 AM – 6 PM
Saturday – Sunday – 9 AM – 6 PM
Mingle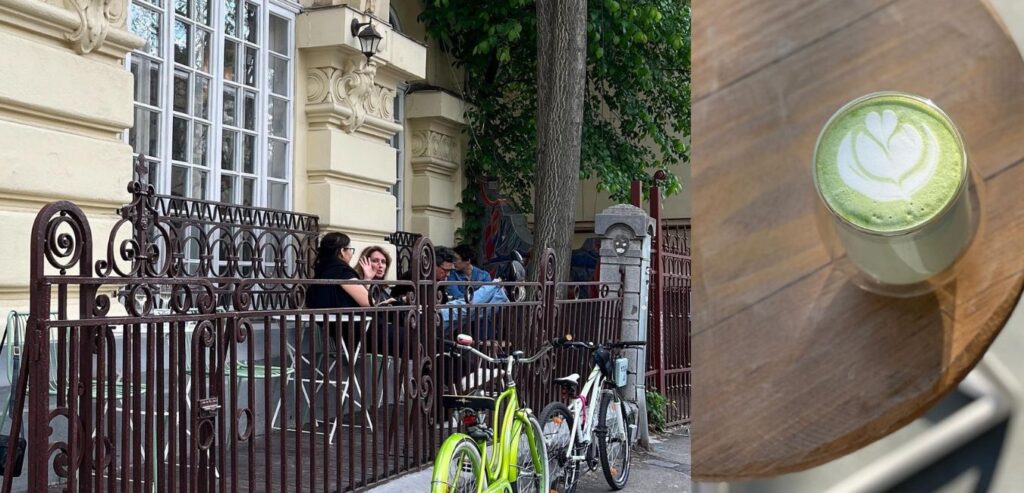 You say Mingle; you say where the joy of coffee meets the enchantment of vintage treasures. This coffee shop, nestled in an old house near Gradina Icoanei, offers a unique experience as you indulge in specialty coffee surrounded by an exquisite collection of antiques, each with its own hidden story.
Mingle Coffee & Vintage Shop takes pride in curating a lovingly handpicked assortment of vintage and handcrafted pieces that transport you to a bygone era. With classic porcelain tableware, vintage camera, wood carvings, and much more, Mingle becomes the ultimate go-to place for finding the perfect gifts or adding character to your own space.
Step inside, and you'll be welcomed by the tantalizing aroma of specialty coffee prepared with precision and care. From velvety smooth lattes to robust espressos, you have many options, each promising an exceptional coffee experience.
The menu at Mingle goes beyond coffee to offer a delightful range of choices. Sip on a soothing cup of tea, enjoy a refreshing soft drink, or savor the taste of fine wine and beer. For sweet cravers, their selection of delectable desserts like cardamom buns, cookies, pain au chocolate, croissants, and fruit cakes perfectly complements your coffee experience.
Embrace the joy of coffee amidst the enchantment of antiques, and discover the hidden treasures that await you at Mingle – an authentic vintage and coffee lover's haven in the heart of Bucharest.
Open Hours at Mingle
Monday – Thursday – 9 AM – 8 PM
Friday – Sunday – 9 AM – 9 PM
Two Minutes Coffee Shop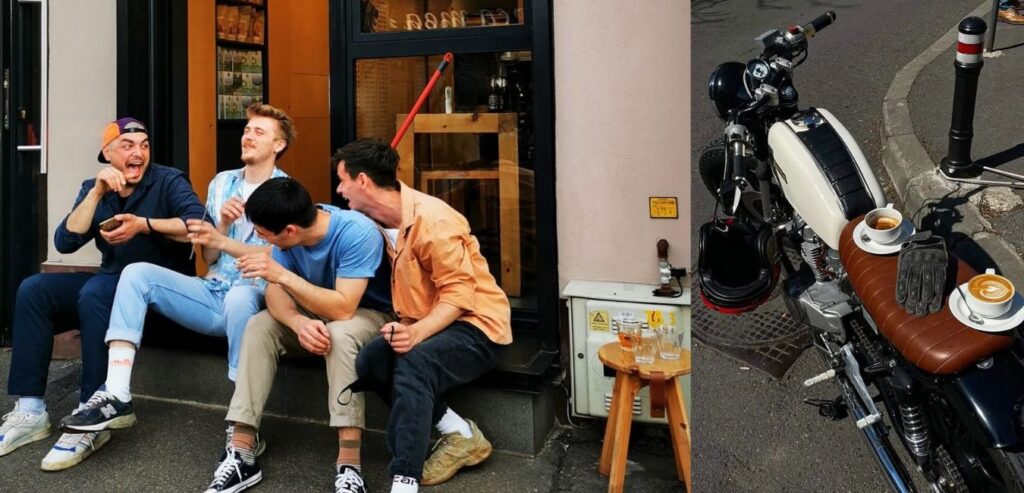 Two Minutes Coffee Shop is a charming and intimate coffee haven in Bucharest that's big on taste and heart. This tiny coffee shop allows you to pick up your order right from the street, creating a unique experience right from the start.
Two Minutes Coffee Shop raves about its warm and welcoming atmosphere, making it a favorite spot for locals and tourists. The friendly staff and personalized service add a special touch, making you feel like you're catching up with old friends over a cup of coffee.
Despite its small size, this coffee shop is big on flavor. The coffee served here is extraordinary, with skilled baristas brewing up a variety of specialty coffee options that leave a lasting impression on your taste buds. As you savor your coffee on the go, the lively atmosphere of the street adds to the overall experience. It's a place where conversations flow freely, and the joy of coffee is shared amongst fellow coffee lovers passing by.
Two Minutes Coffee Shop is a hidden treasure that proves that sometimes, the best things come in small packages. 🙂
Open Hours at Two Minutes
Monday – Saturday – 8 AM – 6 PM
Sunday – 9 AM – 4 PM
Artichoke Social House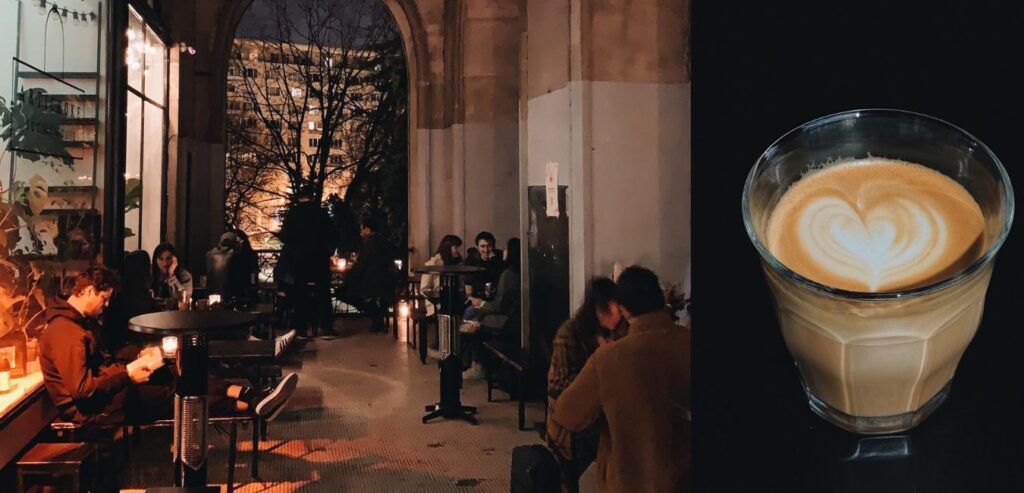 Artichoke Social House is a space for specialty coffee enthusiasts, art lovers, and craft beer and natural wine connoisseurs. Situated in the heart of Bucharest, just a stone's throw away from the National Art Museum, this coffee shop offers an experience that blends visual art and exceptional beverages.
Artichoke Social House welcomes you with the rich aroma of specialty coffee, expertly brewed to perfection. Their passion for coffee extends to every menu aspect, including homemade sodas, fresh juices, and other delightful drinks.
As the sun sets, a magical transformation occurs, and Artichoke Social House evolves into an art hub like no other. Embracing Eastern Europe as its muse, the evenings come alive with captivating art exhibitions that showcase the diverse and inspiring works of talented artists from the region. As guests sip their drinks, they immerse themselves in Eastern Europe's captivating narratives and cultural expressions.
Artichoke Social House features an impressive selection of regional and natural wines and craft beers. This makes it a perfect spot for wine and beer enthusiasts to discover hidden gems and rare finds from the region and beyond.
Open Hours at Artichoke Social House
Thursday – Tuesday – 10 AM – 11 PM
Wednesday – 1 PM – 10 PM
Orygyns Specialty Coffee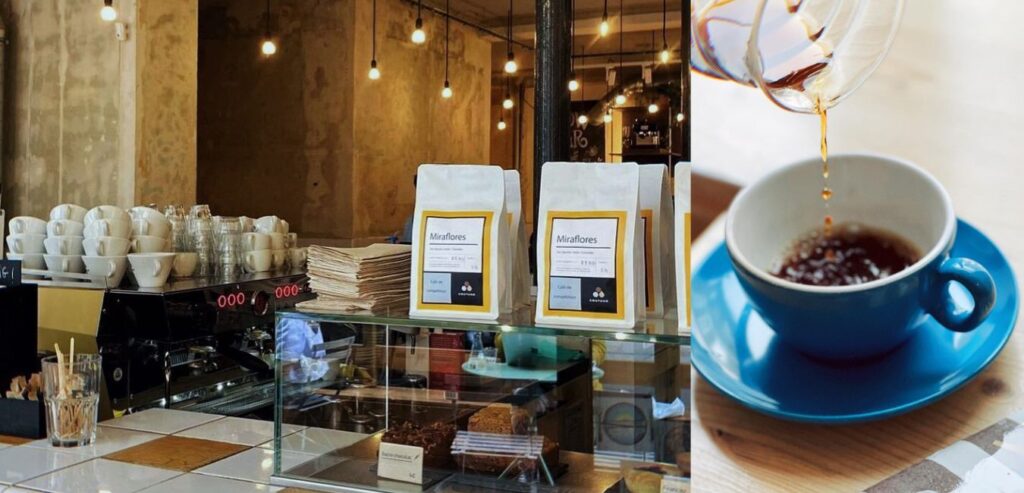 Orygyns Specialty Coffee boasts an unwavering commitment to excellence and an array of specialty coffees from favored European roasters. Despite its small size, Orygyns has earned a reputation for its meticulous organization, spotless cleanliness, and attention to detail that elevates the coffee experience.
One of the highlights of Orygyns is their dedication to crafting impeccable coffee with finesse. The milk is thoughtfully steamed, never boiled, and the quantities are faithfully adhered to, resulting in a consistently delightful coffee experience that keeps people coming back for more.
The water carafe is placed at each table, demonstrating their understanding of the proper coffee ritual and the importance of hydration while savoring your coffee.
Orygyns also has a delectable range of organic and freshly made pastries. With a focus on quality ingredients, delightful treats elevate your visit into a satisfying experience.
With three locations opened, Orygyns Specialty Coffee has captured the hearts of coffee enthusiasts and casual visitors alike. It's a place where passion for coffee, attention to detail, and warm hospitality come together to create a haven for coffee lovers in Bucharest.
Open Hours at Orygyns Coffee Shop
Monday – Friday – 8 AM – 7 PM
Saturday – Sunday – 9 AM – 7 PM
iVy Specialty Coffee Shop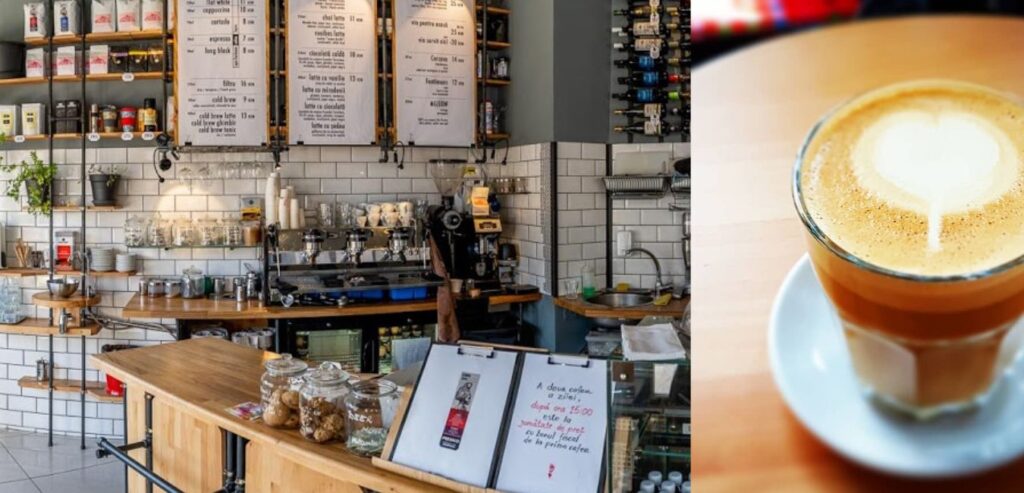 Last but not least, Ivy Coffee Shop, where coffee excellence meets a commitment to healthy and fresh dining. Ivy takes pride in offering a wide range of specialty coffees that cater to the most discerning coffee enthusiasts. They accommodate everyone with various dietary preferences, ensuring customers can find something they love.
For those seeking health-conscious options, Ivy offers an array of choices, including keto, paleo, sugar-free, gluten-free, and low-carb options. The focus on using fresh and local ingredients shines through in each dish, promising a delightful and wholesome culinary experience. As the seasons change and local produce comes into full bloom, Ivy plays and craft dishes that reflect the flavors of the moment.
Beyond coffee and food, Ivy believes in enriching the overall experience with a touch of variety. Sometimes, they offer homemade lemonades to quench your thirst on warm days, specialty teas for those seeking a different beverage experience, and fine spirits for those who appreciate the art of craft beverages. During the colder months, Ivy treats you to winter warmers, bringing comfort and coziness to every visit.
Ivy welcomes you to celebrate the best specialty coffee, fresh cuisine, and local delights.
Open Hours at iVy Coffee Shop
Monday – Friday – 8 AM – 7 PM
Saturday – Sunday – 9 AM – 7 PM
Bucharest's specialty coffee scene offers something for every taste and preference. Bucharest's specialty coffee scene is thriving, with diverse coffee shops waiting to be explored. You can consider other coffee shops in your list, such as Origo, Ototo, Esthe, or Aparterre, each contributing their own distinctive flair to the city's coffee culture.
Happy coffee exploring!
Note: The positions of the coffee shops are in random order. | Updated: July 26, 2023