The Bucharest Christmas Market (better said the Bucharest Christmas Fair) is one of the best Christmas markets in Europe. Bucharest Christmas Market is great if you are looking for unique, locally made gifts, and also if you want to eat and drink some Romanian specialties. On the esplanade with statues in University Square, Bucharest City Hall, through CREART – Center for Creation, Art, and Tradition, will open the symbolic fair of the Capital – Bucharest Christmas Market. The tree placed in the University Square has a height of 15 meters, is reusable, durable, and environmentally friendly, created from wood and adorned with carved ornaments. Ambient music will complement the Christmas market. The joy of this holiday will bring the people together at this special place.
West Side Christmas Market in Drumul Taberei Park | November 25 – December 26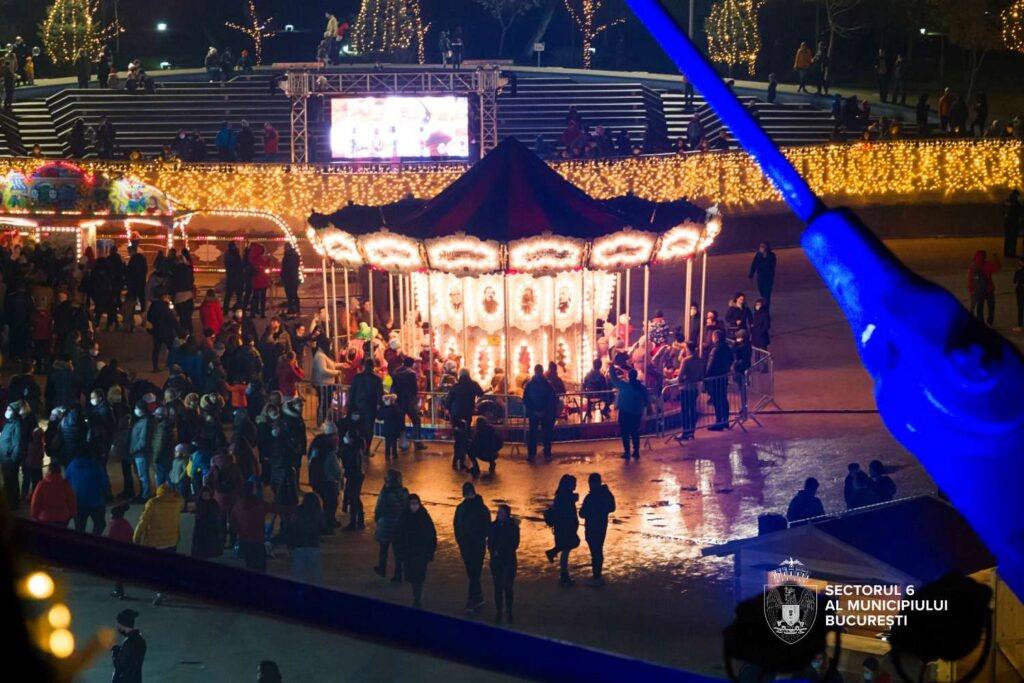 The first edition of the West Side Christmas Market takes place in Drumul Taberei Park between November 25 and December 26. The natural Christmas tree, 8 meters high, adorned with snowflakes, stars, and LEDs with festive motifs, will be placed in pots in the middle of the fair. And at the end of the holidays, it will be replanted, along with the other Christmas trees that will decorate the storyboard.
However, the point of attraction will be the skating rink arranged in the lake basin, which measures 1,000 sqm. An hour to spend on ice will cost 10 lei, and a two-hour series, 20 lei. On weekends, the rate will be 25 lei. Those who do not have skates will rent them for 15 lei.
Crângași Christmas Market in Crângași Square | November 25 – December 26
At the same time, the City Hall of Sector 6, through the Commercial Administration of Sector 6, opened on November 25 two more Christmas fairs. One in the Sir area and another in the parking lot opposite Crângași Square, where there will be a restaurant with traditional dishes in addition to the famous wooden houses.
The fair is open daily, between December 6, 2021 – January 10, 2022, between 10.00 – 21.00, and access is free and you need to present a Green Certificate.
Instead, visitors must observe the sanitary measures of the pandemic: to wear a protective mask when not consuming food and drink in the specially designed area and to keep a physical distance.
We will be captivated by the magic of the Christmas Fair with rich and decadent houses with all kinds of goodies, with ecological, traditional, and natural products, made in farms and peasant households, from traditional products specific to the Christmas meal – meats, smoked meats, cheeses, sweets and gingerbread, cakes, pies, mulled wine and hot drinks. Everyone will be fascinated by the Christmas decorations.
Urban Christmas Market 2021 – Christmas Fair at ARCUB Gabroveni | December 6 – 23
This year, ARCUB organized a Christmas Market at Gabroveni to promote the activity of the creative sector in Bucharest, especially the creators, producers, or sellers of design objects, decorative objects (small furniture, lighting fixtures, ceramic/glass objects). Illustrations, sculptures, paintings), jewelry, decorations, vinyl, books, albums, stationery, handicrafts, natural cosmetics, clothing, accessories, or children's items.
Traditional Romanian food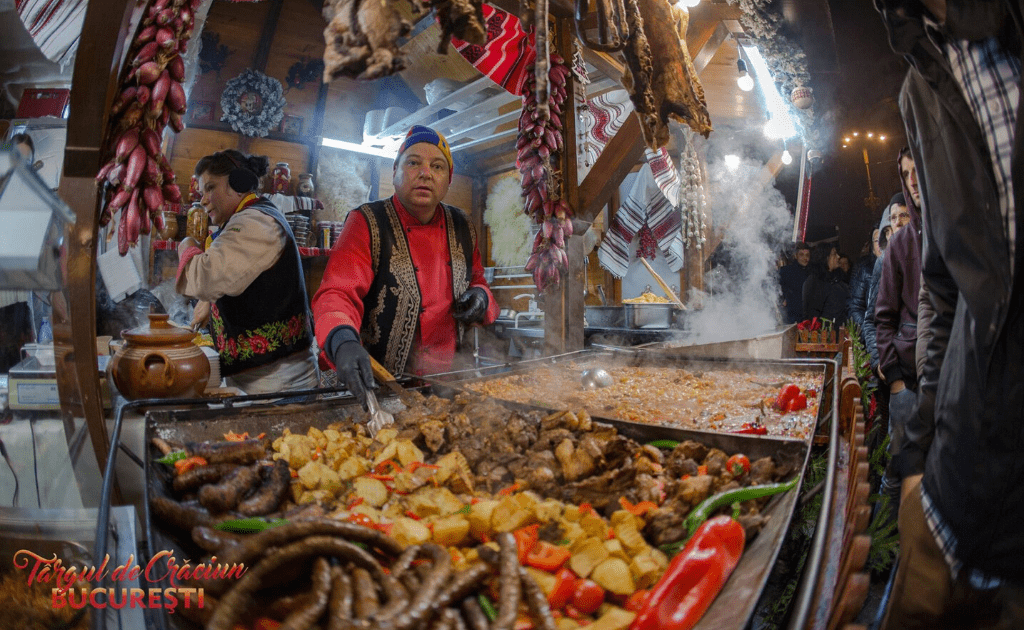 The Bucharest Christmas Market brings along farmers, traders, and villagers from all corners of the country to share their traditional products with pride and joy. One can find everything from gorgeous handicrafts, sweet gingerbread, hot mulled wine, and glittery Christmas decorations to all sorts of baked goods, regional pies, cured meats, and other traditional Romanian food. Expect a wide variety and products for everyone. Also, you can find food to eat on the spot, but also food to eat at home – salami, sponge cake, sweets – including a wide variety of candy and candy canes -, jams, cheese, and many more.
The "West Side Christmas Market" landscape will include mulled wine, gingerbread, cakes, pies, and other delicious traditional dishes, which you will find steaming at the ten food trucks.
Creative activities for children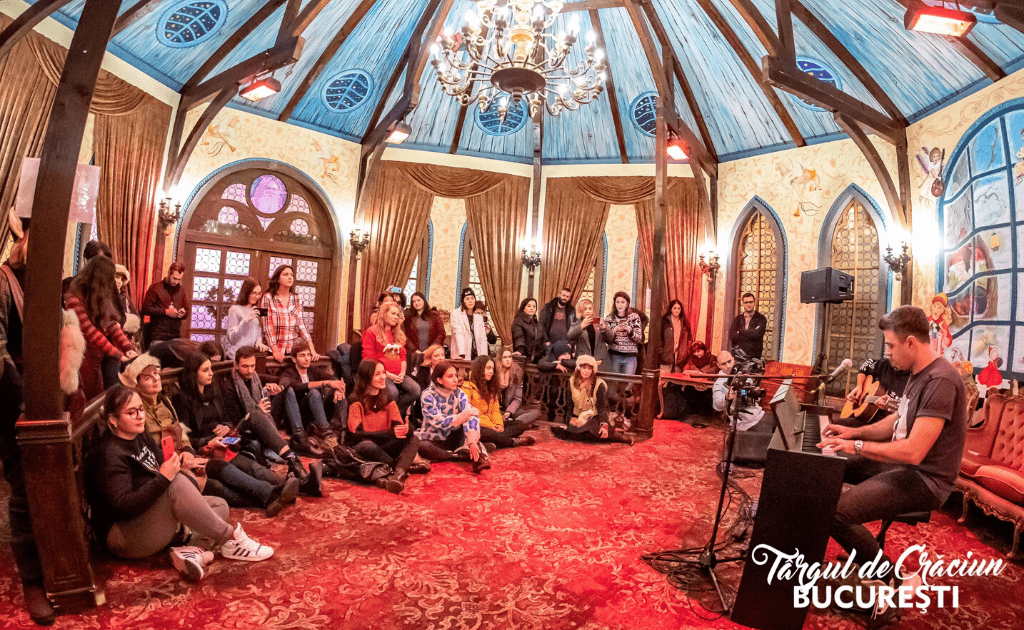 Children will be able to attend creative workshops at Santa Claus's House, where they can also drop the letters for Santa, who will arrive at the market on December 13. Also, a lively carousel and a Santa Claus' House full of elves and fairies will be set up in the heart of the market. In the evening, the atmosphere will be animated by a beautifully lit 15-meter Christmas tree, live carols, music concerts, and various events. Further attractions include an open-air ice skating rink and a variety of craft workshops.
A perfect time for a good deed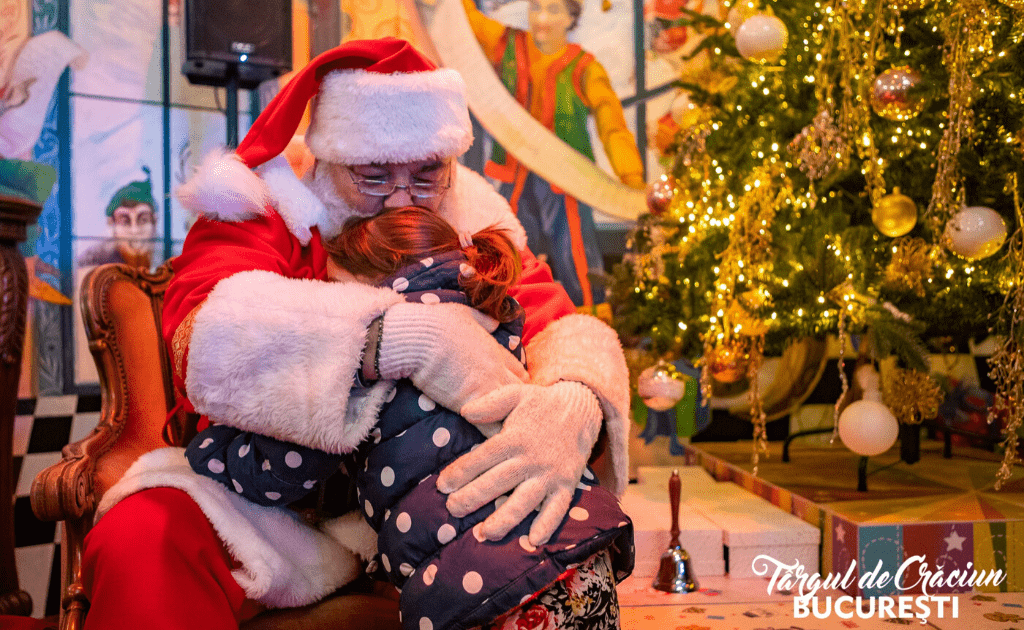 Those visiting the Bucharest Christmas Market can donate books and toys for underprivileged children at a donation point set up close to the entrance to Santa Claus's House. The humanitarian campaign is organized annually in order to encourage visitors to donate books and toys, calling for solidarity and social involvement. Most charities accept online donations so if you cannot make it to one of these events, you can nonetheless pick a project or more to support.
Bucharest Weather in Winter
The weather in Bucharest in December is usually sunny with a chance (or more) of snow. The temperatures are often with a minus (-) in front of them, so bring warm clothes. You'll need boots, a hat, and mittens for your trip to Bucharest starting with November, especially if you want to spend some time outdoors.
Open:
The fair will be open daily Monday – Friday between 12:00 and 22:00, and Saturday – Sunday 10:00-22:00 on November 26 –December 26, 2021.
The price of the ticket that ensures an entrance to the fair is 5 lei for the online purchase, respectively 7 lei, at the ticket office in the location.
Restrictions
Christmas Market is allowed only to persons who have the Digital Green Certificate.
The organizers have the obligation to scan the QR code without retaining any data or information from the verified certificate. Wearing a face mask is mandatory (exception: children under 5 years of age). At the entrance, all participants will go through an observational/thermal scanning triage.
Source photo: Facebook Bucharest Christmas Market