Welcome to Bucharest in Autumn! As the leaves change colour and a crispness fills the air, this vibrant city transforms into a picturesque destination. You might have visited Bucharest in summer, spring or winter, but the way the autumn embraces the city is something you must experience.
In this guide, we'll take you through the best time to visit, fall festivals and events that showcase Bucharest's cultural heritage, scenic parks and gardens for leisurely strolls among colourful foliage, indoor attractions for rainy days, culinary delights to savour during this season, and tips on planning your trip. Get ready to experience the splendour of Bucharest in autumn like never before!
When to Visit Bucharest in Autumn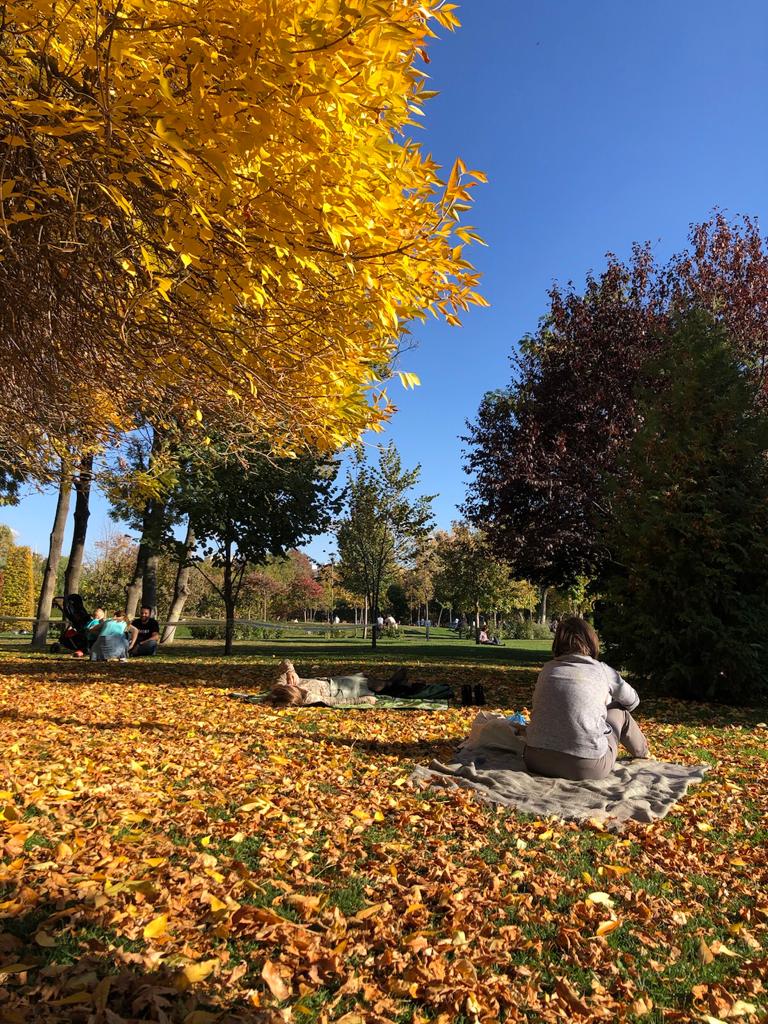 Autumn is a beautiful time to explore Bucharest, with the months of September and October being the best for experiencing its fall splendour. The weather is mild and pleasant during this time, making it ideal for outdoor activities such as strolling through the city's parks or visiting historical landmarks. With colourful foliage adorning the streets and a comfortable climate, autumn offers a picturesque backdrop for exploring all of Bucharest's highlights.
If you visit Bucharest on a weekend, we also have many recommendations for all international tourists arriving in Romania's Capital in autumn.
Alternatively, you can check what to do in Bucharest for free in the link. It is a guide for all those who want to experience the city's attractions in autumn without breaking the bank.
The Best Months to Explore Bucharest in Autumn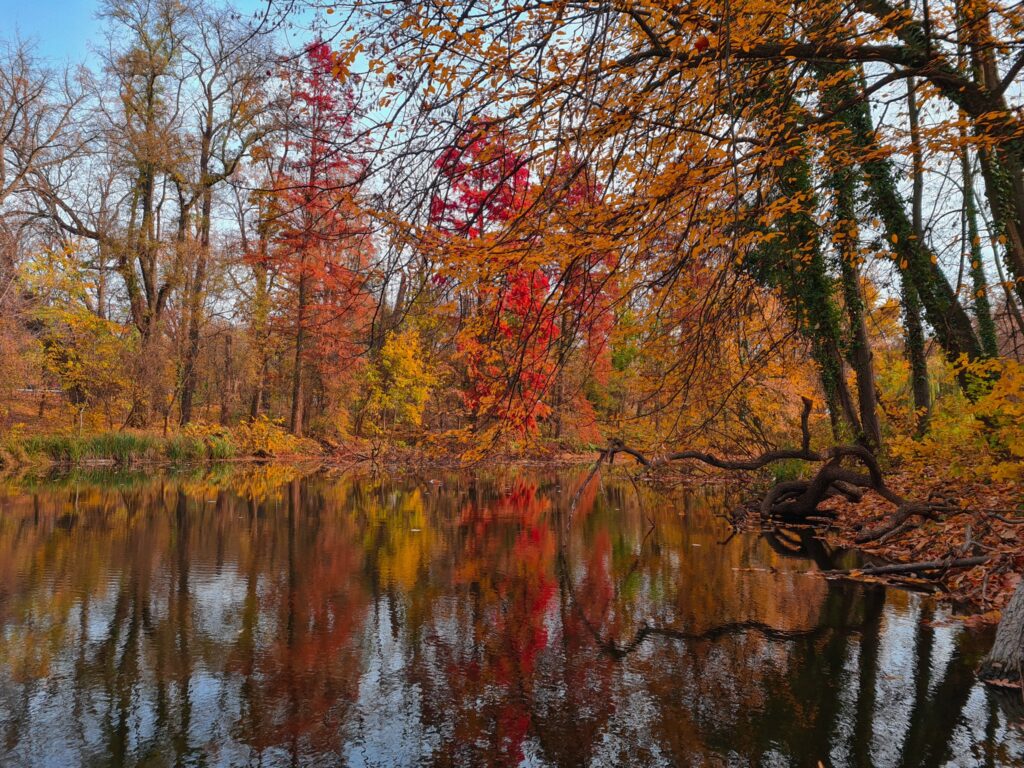 September in Bucharest offers the perfect opportunity to enjoy the last warm days of summer while immersing yourself in vibrant cultural events. Experience the energy of the Street Food Festival – Bucharest or the Moldovan Wine Fest, the art exhibitions showcasing local talent against beautiful autumn colours and the art galleries where international and local artists display their masterpieces.
In October, get ready to be mesmerized by breathtaking autumn foliage as you explore Bucharest's parks and gardens. Don't miss the chance to visit traditional markets bustling with activity, where you can sample seasonal delicacies and immerse yourself in the city's rich history.
As November arrives, embrace a cozy atmosphere that blankets Bucharest as temperatures cool. Indulge in mouthwatering seasonal delicacies at the best cafes and Bucharest restaurants while witnessing local traditions that charm this beautiful city during autumn.
Weather and Climate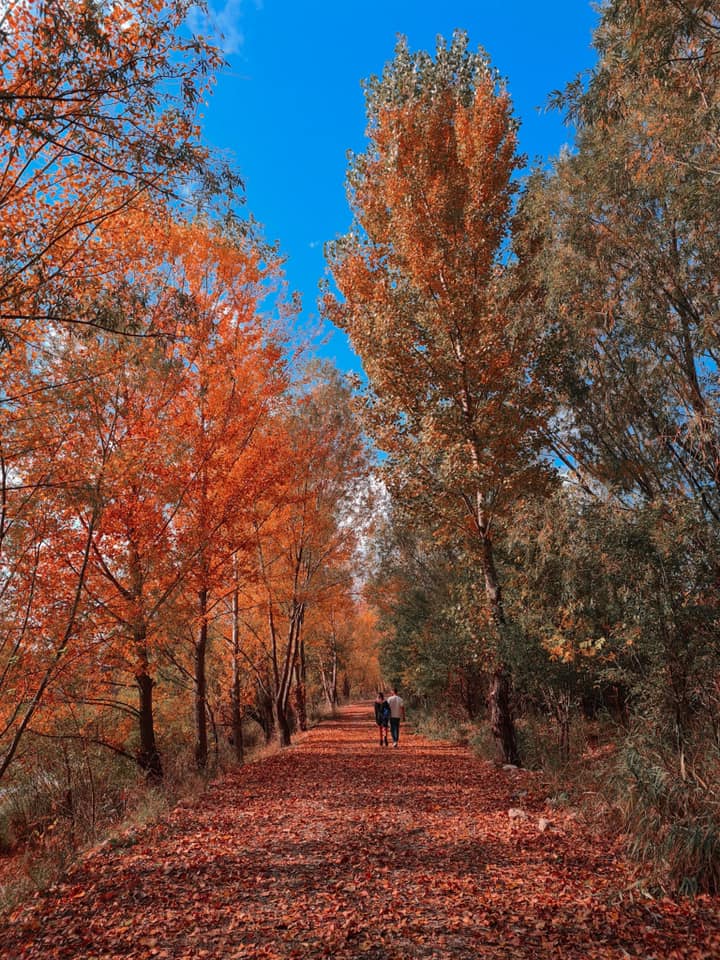 Mild temperatures ranging from 10-20°C (50-68°F) provide a comfortable environment for exploring Bucharest in autumn. Occasional rain showers create a refreshing ambiance, adding to the city's beautiful fall scenery. As the sun sets, cooler evenings are perfect for strolling through illuminated parks and enjoying picturesque views.
If you check Bucharest's weather in autumn, you will find out that:
Mild temperatures ranging from 10-20°C (50-68°F)
Occasional rain showers create a refreshing ambiance
Cooler evenings are perfect for strolling through illuminated parks
Fall Festivals and Events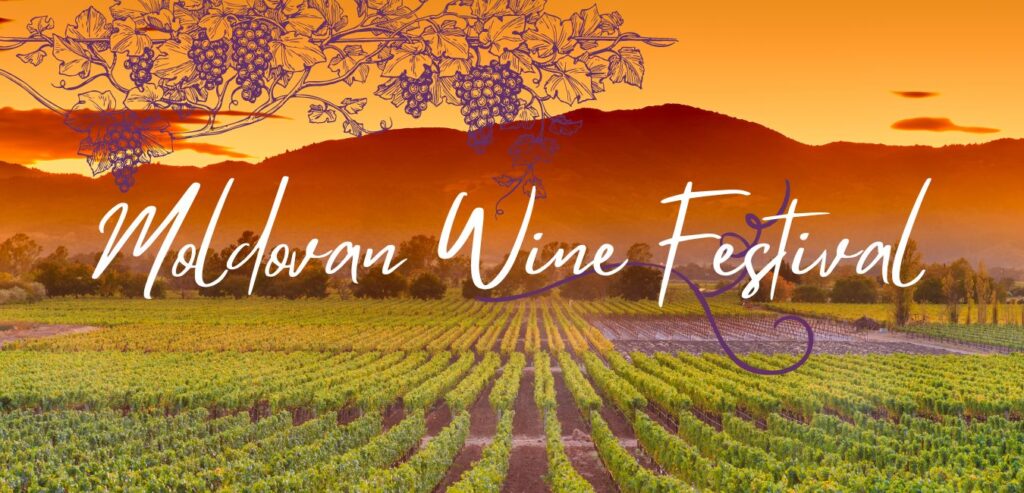 Bucharest International Film Festival: Immerse yourself in the world of cinema at the prestigious Bucharest International Film Festival. With a captivating selection of international films, this event offers an opportunity to experience the artistry and storytelling from around the globe.
Autumn Fair at Herăstrău Park: Indulge your senses at Herăstrău Park's Autumn Fair, where you can explore a vibrant array of local crafts, delicious food stalls, and live performances. This fair showcases Bucharest's rich culture and creativity, from traditional Romanian delicacies to unique handmade souvenirs.
Bucharest International Film Festival
The Bucharest International Film Festival is an exceptional event that brings together cinema enthusiasts from around the globe. Showcasing a wide range of world-class films, this festival offers a unique opportunity to immerse yourself in the magic of international cinema. From thought-provoking dramas to captivating documentaries, there is something for every film lover at this prestigious event.
At various venues across Bucharest, the film festival provides ample opportunities for moviegoers to indulge in cinematic excellence. Whether you prefer luxurious theatres or intimate screening rooms, you will find them all here. Be sure to check out the schedule beforehand so you don't miss any screenings that pique your interest – it's bound to be a whirlwind week filled with unforgettable movie experiences.
Prepare yourself for encounters with renowned directors and actors as they grace this esteemed festival with their presence. With past attendees including award-winning filmmakers and internationally acclaimed performers, there is no doubt that this year's edition will attract an equally impressive lineup of talent. Keep your eyes peeled for industry icons as you navigate through exciting premieres and exclusive events during your visit to Bucharest in autumn.
West Side Hallo Fest – the biggest Halloween Festival in Romania: October 27-29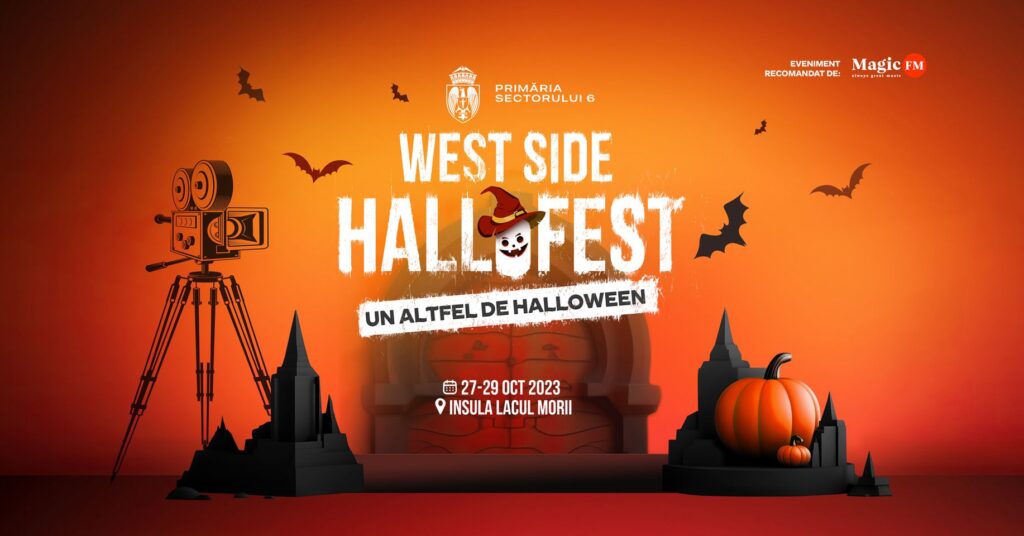 West Side Hallo Fest, the biggest Halloween festival in Romania, is on Morii Lake between October 27 and 29. West Side Hallo Fest runs for three days, with rock concerts, children's workshops, mystery trails and a costume contest.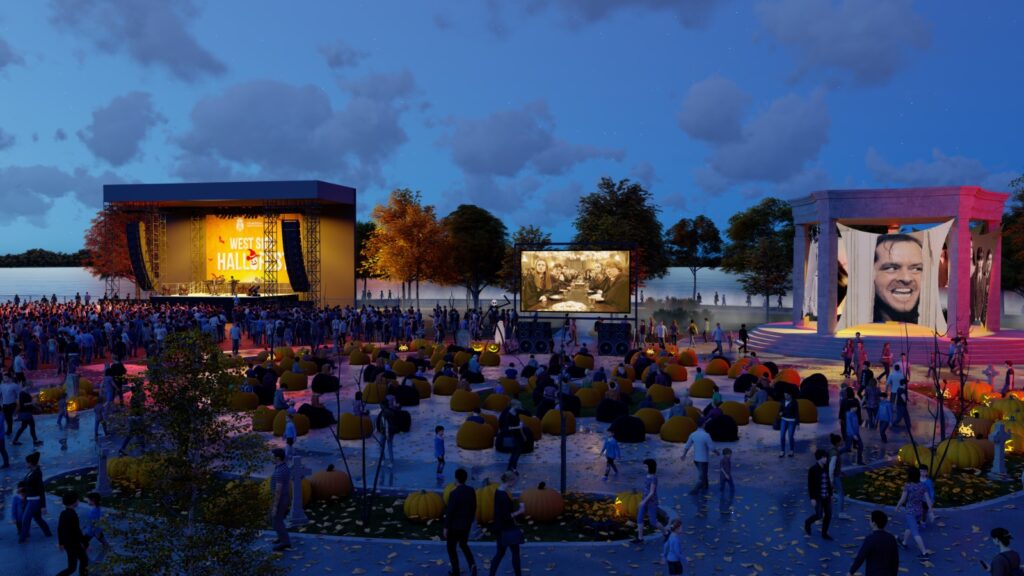 The biggest Halloween festival in Romania will be organized by the City Hall of Sector 6, on the island of Morii Lake and the equipped jetty. The event will occur between October 27-29, and entry will be free.
Autumn Fair at Herăstrău Park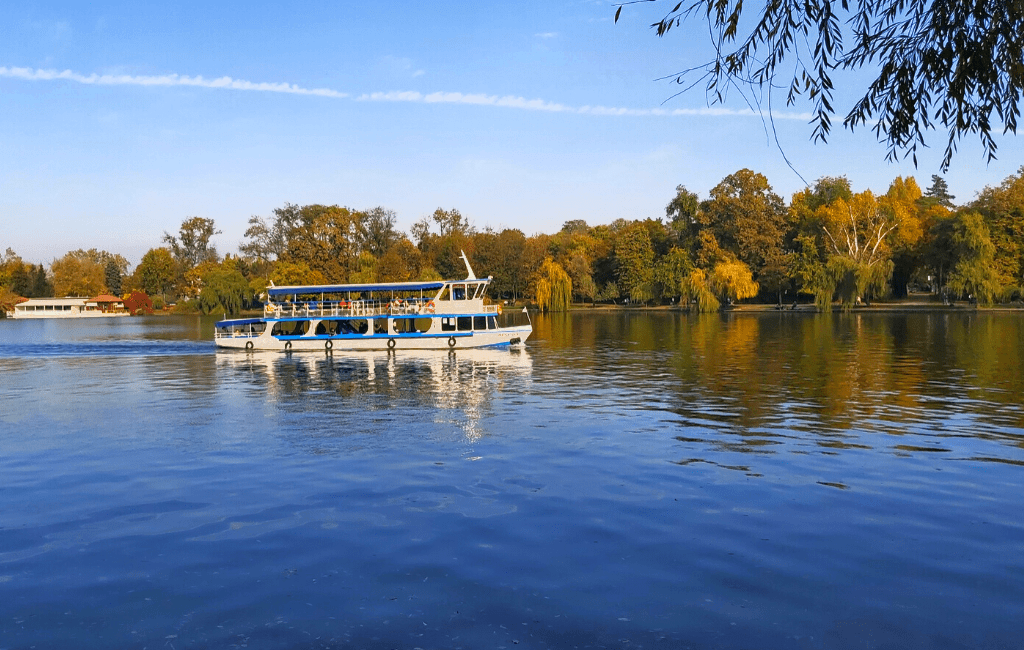 Exploring Romanian Culture: Traditional crafts and artwork for sale, providing a glimpse into the rich cultural heritage of Romania. From handmade pottery to intricate wood carvings, there is something unique for every visitor to cherish.
Delicious Autumn Delights: Local food stalls offer various culinary delights that capture the essence of autumn in Bucharest. Indulge in Romanian traditional dishes such as sarmale (stuffed cabbage rolls) and cozonac (sweet bread), or savour seasonal treats like pumpkin pie and roasted chestnuts.
Entertainment for All Ages: The fair excites as performers showcase their talents on stage. From live music performances to traditional dance shows, there is entertainment for visitors of all ages. Engage in hands-on activities such as face painting or take a leisurely stroll through the park's vibrant surroundings.
For a complete list of the concerts and music festivals in Bucharest, please check the article in the link.
Exploring Bucharest's Parks and Gardens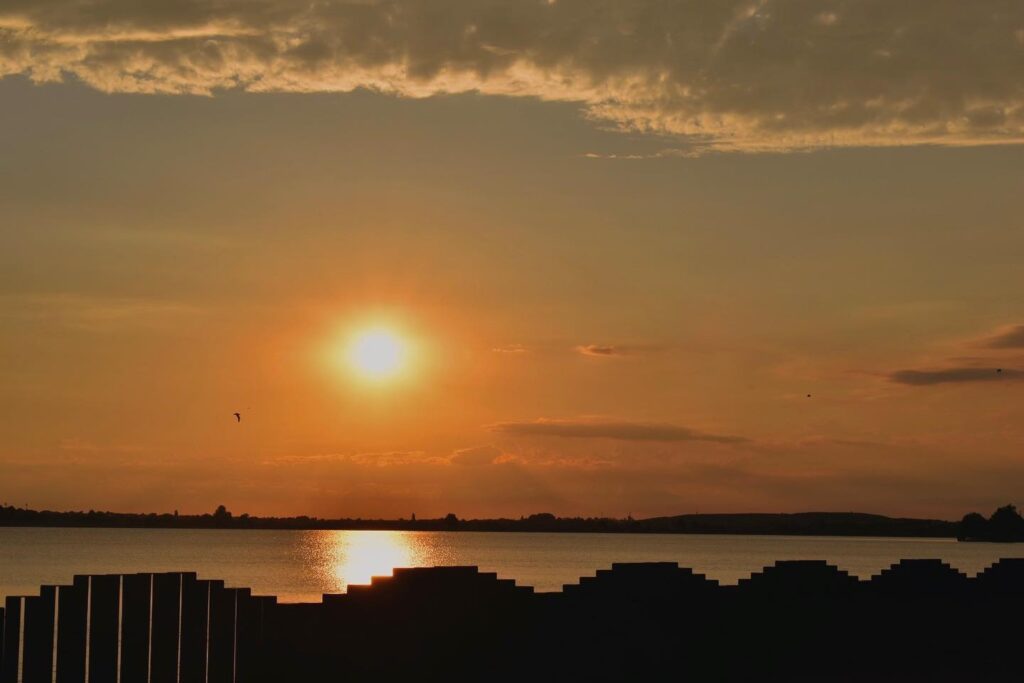 Cismigiu Park: Nestled in the heart of Bucharest, Cismigiu Park is a serene oasis that showcases the vibrant colours of autumn. Take a leisurely stroll along the tree-lined pathways and immerse yourself in nature's beauty. Don't miss the chance to rent a paddleboat and glide across the tranquil lake, surrounded by rustling leaves and picturesque scenery.
Herăstrău Park: For an enchanting autumn experience, head to Herăstrău Park. This sprawling green space offers endless opportunities for exploration. Take a bike ride around its winding trails or relax on one of its many benches while admiring the vivid hues of fallen leaves. Be sure to visit Morii Lake, where you can observe graceful swans gracefully swimming amidst a backdrop of colourful foliage.
Also, if you get near Herastrau Park, go to the Arch of Triumph. It is open to be visited during weekends, and you can climb on top of it to have a 360-degree view over Bucharest.
Cismigiu Park
Strolling through Cismigiu Park in autumn is a feast for the senses, with vibrant foliage painting the landscape in shades of red, yellow, and orange. As you wander the winding paths, you'll be enchanted by nature's colourful display and capture picture-perfect moments at every turn.
Embark on a peaceful boat ride across Cismigiu Lake for a truly serene experience. Drifting calmly on the water amidst the stunning autumn scenery provides a tranquil escape from bustling city life. Let yourself be immersed in the soothing atmosphere as you bask in this idyllic setting.
Cismigiu Park holds hidden treasures waiting to be discovered – statues and monuments scattered throughout that add an element of surprise to your stroll. Each discovery tells its unique story within this enchanting park, from grand sculptures honouring historical figures to whimsical depictions tucked away among trees.
Herăstrău Park
Lose yourself in the enchanting beauty of Herăstrău Park as you admire the reflection of vibrant autumn foliage dancing on the surface of the serene lake. The kaleidoscope of colours creates a captivating spectacle that will leave you in awe.
Embark on an adventurous journey by renting a bike and immersing yourself in nature's splendour along scenic cycling paths. Feel the crisp breeze against your face as you pedal through picturesque landscapes, discovering hidden corners and charming vistas.
Step back at the Village Museum for a fascinating glimpse into Romanian rural life. Wander through authentic traditional houses, each telling its own story while gaining insight into ancient customs and traditions passed down through generations.
Fall Colors and Scenic Walks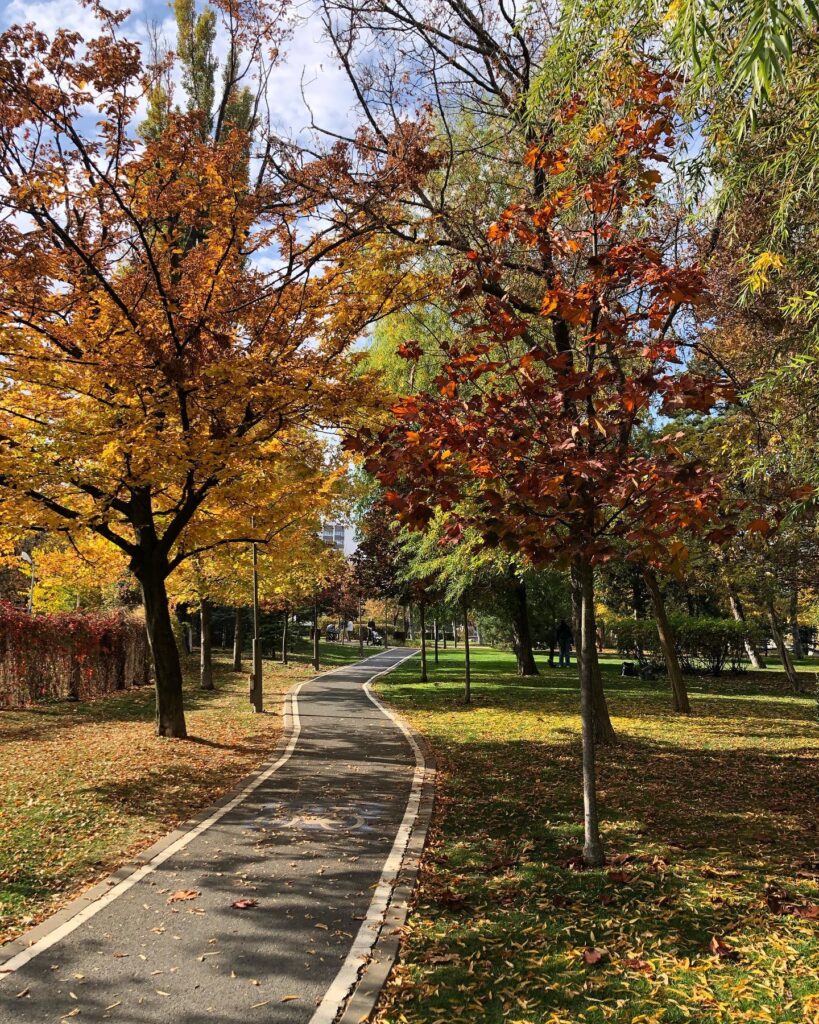 Experience the beauty of autumn as you wander through Bucharest's enchanting Old Town. Admire the striking architecture draped in ivy and adorned with colourful foliage during this season of change. Take a peaceful stroll along its winding streets to discover hidden gems such as quaint bookstores or cozy cafes nestled among nature's vibrant palette; an unforgettable experience for any traveller seeking natural beauty within an urban setting.
Bucharest Old Town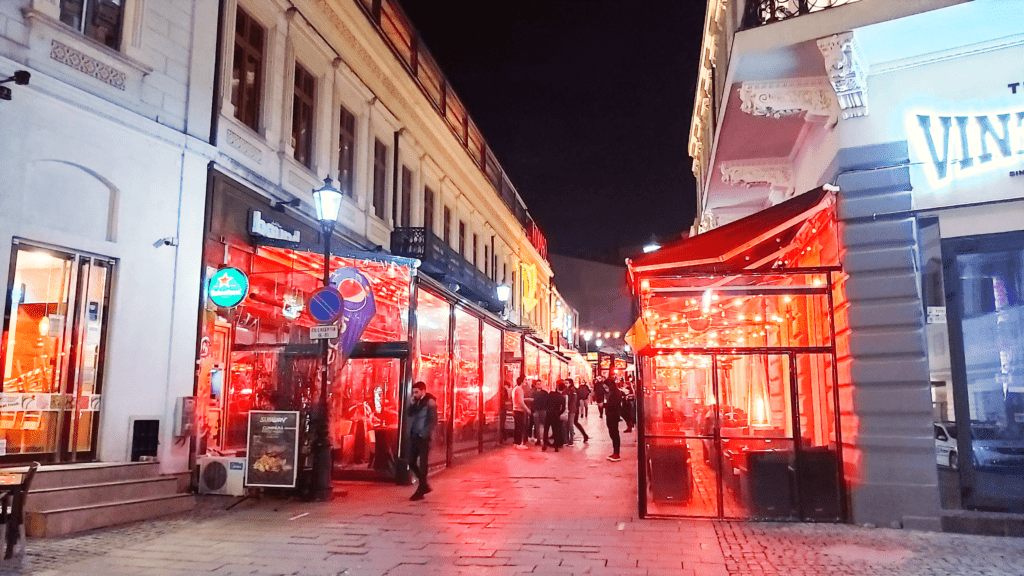 Bucharest Old Town is a vibrant neighbourhood that showcases the city's rich history and cultural heritage. Here, you can immerse yourself in the past while enjoying live music, exploring traditional markets, and discovering iconic landmarks like Hanul lui Manuc.
Discover the Rich History of Hanul lui Manuc: Step into this historic inn dating back to 1808 and be transported to another era. Marvel at its impressive architecture, stroll through its courtyard filled with charming shops and cafes and learn about its fascinating role in Bucharest's history.
Enjoy Live Music and Nightlife in Clubs and Bars: Bucharest Old Town comes alive after dark with a lively nightlife scene. Dance the night away to live music performances in cozy bars or experience world-class DJ sets at trendy clubs. There's something for everyone here.
Shop for Unique Souvenirs at Traditional Markets: Stroll through the bustling traditional markets of Bucharest's Old Town, where you'll find an array of unique souvenirs to take home. From handmade crafts to local delicacies, these markets offer an authentic shopping experience that reflects the city's culture. You can also enter any of the Bucharest shopping malls, where traditional stores wait for tourists with traditional crafts.
History blends seamlessly with modern attractions in Bucharest's Old Town, making it a must-visit destination for those exploring Romania's capital city in autumn.
Indoor Attractions for Rainy Days
The Palace of the Parliament offers guided tours through its grand halls and opulent rooms, giving visitors a unique insight into Romania's political history. Consider the impressive architecture and learn about its construction, making it one of the world's largest administrative buildings.
The National Museum of Art of Romania houses an extensive Romanian and European art collection showcasing masterpieces from various periods. Wander through galleries filled with paintings, sculptures, and decorative arts highlighting traditional and contemporary artistic expressions.
The Palace of the Parliament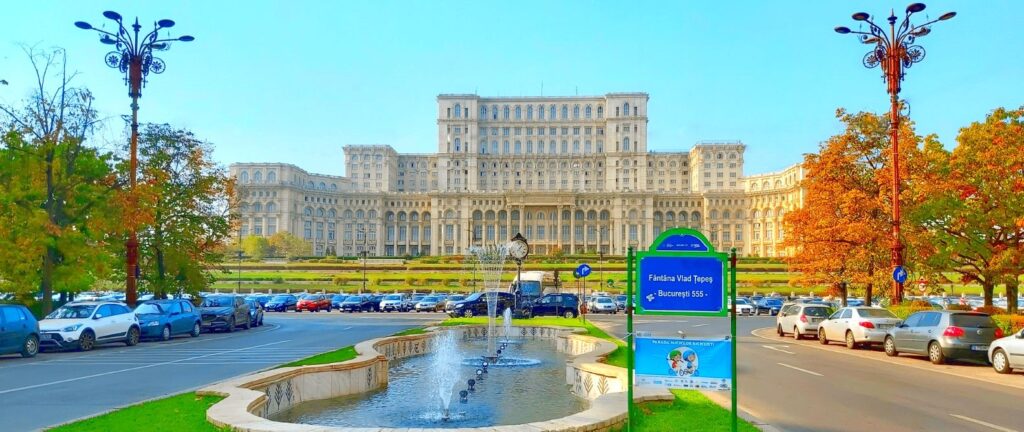 Explore Europe's largest administrative building, the Palace of the Parliament. This magnificent structure is an architectural marvel that showcases Romania's grandeur and power. Step inside to marvel at its opulent interiors adorned with intricate details and luxurious furnishings. As you wander through its vast halls, you'll be captivated by the beauty and gain insight into Romania's rich history and political significance.
The National Museum of Art of Romania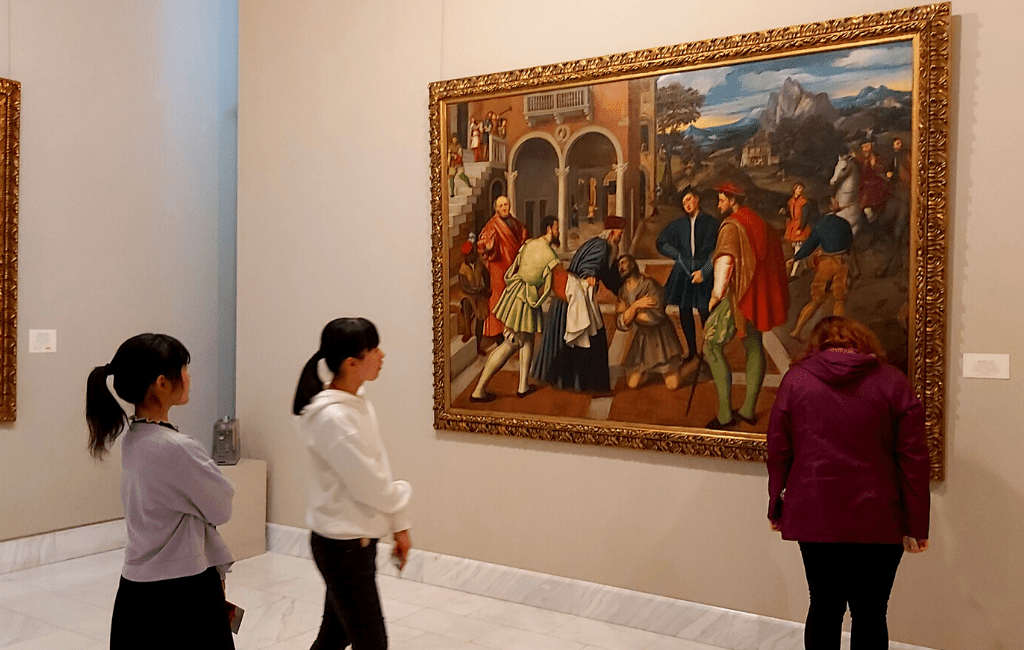 Admire the extensive Romanian and European collections at the National Museum of Art of Romania. Immerse yourself in the vibrant world of creativity as you explore the museum's halls filled with captivating paintings, sculptures, and installations.
Discover masterpieces by renowned artists such as Brancusi and Grigorescu, whose works showcase their remarkable talent and artistic vision. From striking portraits to abstract compositions, these artworks offer a glimpse into the rich cultural heritage of Romania.
Experience the cultural heritage of Romania through various exhibitions at the National Museum of Art. Journey through time as you delve into thematic displays highlighting different Romanian periods, from ancient traditions to contemporary expressions. Engage with interactive exhibits that bring stories to life and gain a deeper understanding of this fascinating country's artistic evolution.
Culinary Delights in Autumn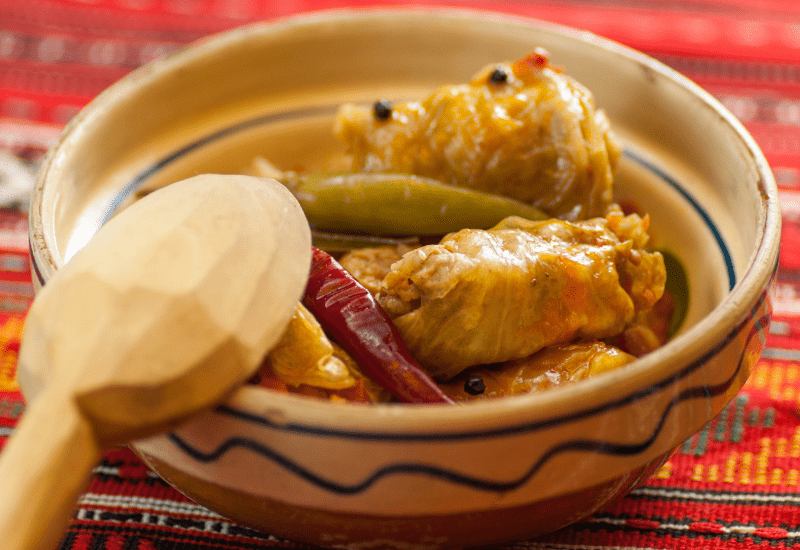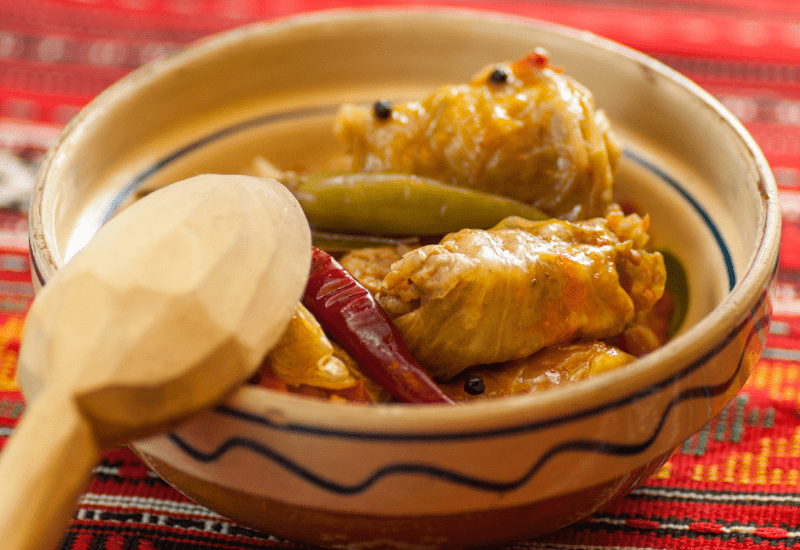 Traditional Romanian Dishes: Bucharest in autumn offers a delightful culinary experience with its traditional Romanian dishes. Indulge in mouthwatering sarmale, (cabbage rolls stuffed with minced meat and rice) or try the delectable mămăligă, a cornmeal porridge served alongside tender grilled meats. Don't miss out on the creamy and rich tuică, a traditional plum brandy that perfectly complements these hearty meals.
Autumn Flavors and Local Markets: As the leaves change colour and the air turns crisp in Bucharest, local markets come alive with vibrant autumn flavours. Explore stalls bursting with freshly harvested apples, pears, and pumpkins to create your own seasonal treats at home. Immerse yourself in the aromas of warm spices like cinnamon and nutmeg as you sample homemade jams, honey-infused desserts, and artisanal cheeses from local producers.
Regarding local markets, we recommend Obor Market, which is not only the largest produce market in Bucharest or Romania but also in Eastern Europe.
Traditional Romanian Dishes
Sarmale, a traditional Romanian dish, consists of cabbage rolls stuffed with a flavorful mixture of minced meat, rice, and spices. It is a delicious and satisfying meal showcasing Romania's rich culinary heritage. Mamaliga, similar to polenta but with its own unique twist, is made from cornmeal and often served with cheese or sour cream. This hearty dish is perfect for warming up on chilly autumn evenings. Another must-try delicacy in Bucharest is mititei – grilled ground meat sausages seasoned with garlic and herbs. These savoury treats are popular street food items that offer flavour in every bite.
Autumn Flavors and Local Markets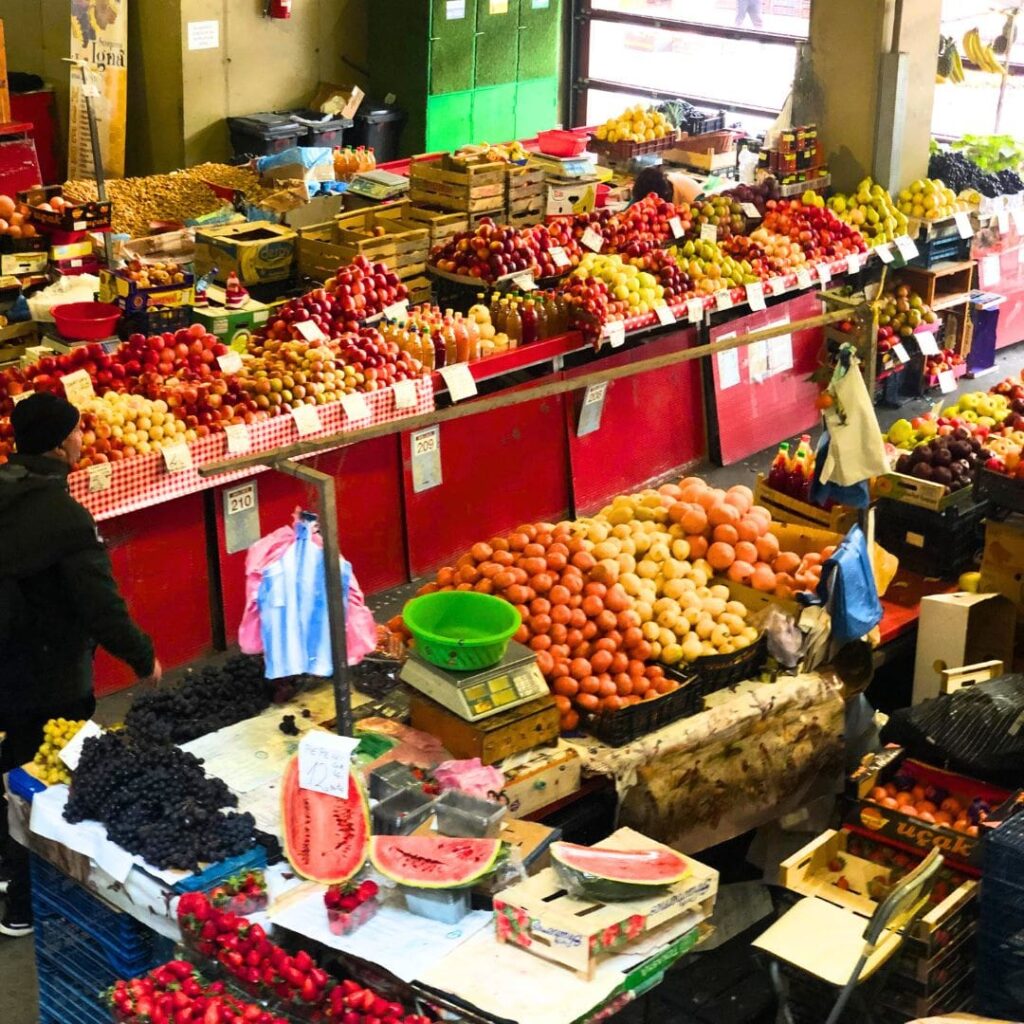 Apple Orchards: Immerse yourself in the crisp autumn air as you venture out to the nearby apple orchards. Wander through the rows of trees, picking your own fresh apples straight from the branches. Don't forget to indulge in delightful apple-based products such as refreshing cider or homemade jams.
Pumpkin Season: As you stroll through local markets, be captivated by an abundance of vibrant pumpkins on display. Take home these versatile gourds and experiment with hearty soups, or treat yourself to a slice of delectable pumpkin pie. Let your culinary creativity flourish with this fall favourite.
Planning Your Trip to Bucharest in Autumn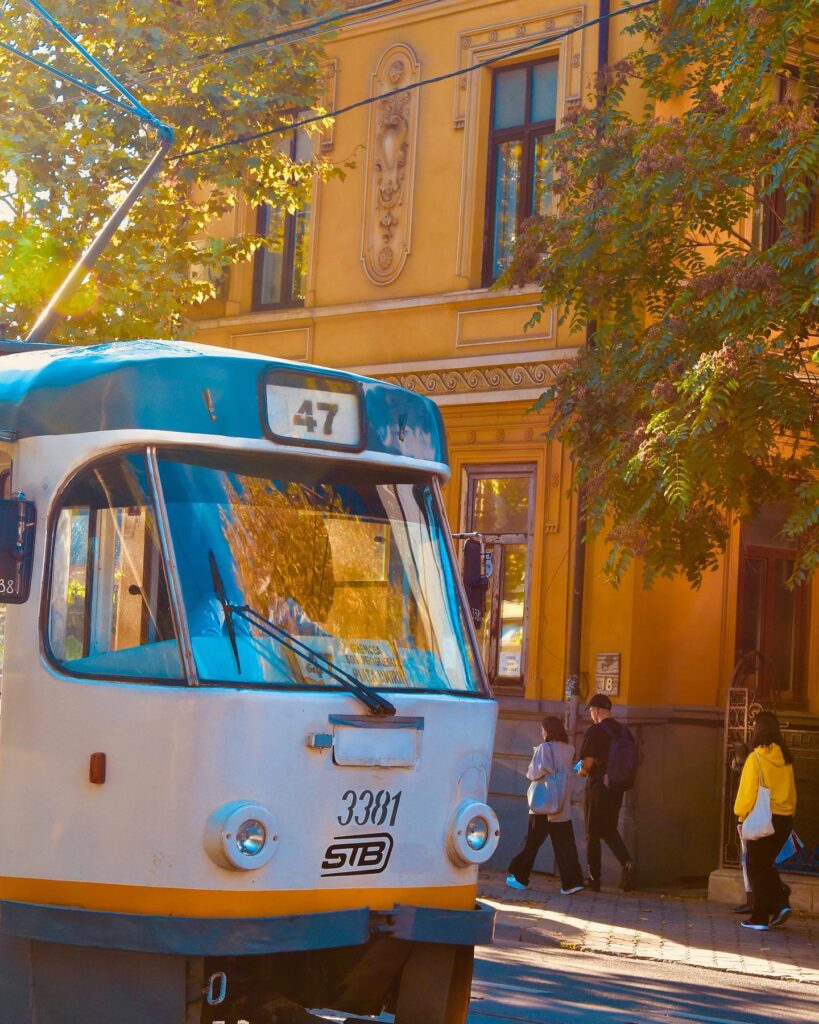 Getting Around the City: Bucharest's efficient public transportation system is convenient for exploring the city. The metro and bus networks provide easy access to popular attractions, while taxis are widely available for shorter journeys.
Accommodation Options: From luxury hotels in central locations to budget-friendly hostels in trendy neighbourhoods, Bucharest offers many accommodation options. Consider staying near the historic Old Town or vibrant Lipscani district for easy access to restaurants, cafes, and cultural landmarks.
Safety Tips for Travelers: While Bucharest is generally safe, it's always important to remain vigilant. Keep your belongings secure and be cautious of pickpockets in crowded areas. Stick to well-lit streets at night and avoid walking alone in less populated areas. Familiarize yourself with emergency numbers and have copies of important documents stored securely during your trip.
Getting Around the City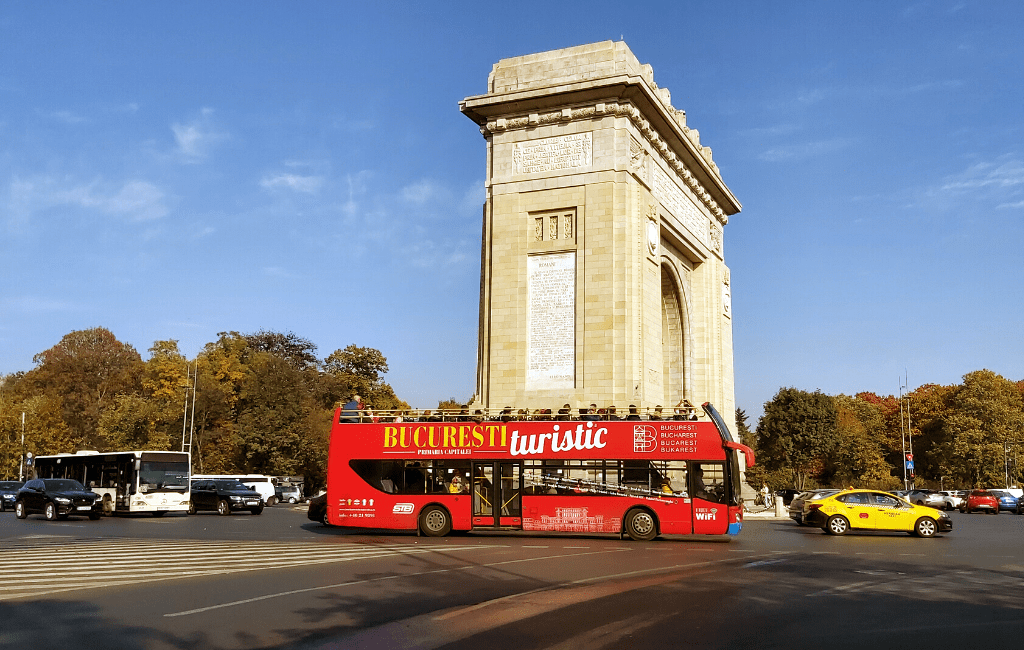 Getting Around the City by public transport
Public Transportation: Discover the convenient and extensive network of buses, trams, and metro lines by checking our Bucharest public transport guide.
Walking Tours: Lace up your comfortable shoes and explore the city's charming streets on foot or on guided tours.
Bike Rentals: Enjoy a leisurely bike ride through Bucharest's parks and boulevards.
Accommodation Options
Boutique Hotels: Discover the allure of Bucharest by staying in one of its stylish boutique hotels. These charming accommodations offer personalized service and a unique atmosphere to enhance your travel experience.
Airbnb Apartments: Immerse yourself in local life by renting an apartment in one of Bucharest's vibrant neighbourhoods. Experience the city like a true local, with all the comforts and conveniences of home.
Luxury Resorts: Treat yourself to opulent accommodations outside the bustling city center at luxurious resorts. Indulge in lavish amenities and enjoy breathtaking views while within reach of Bucharest's attractions.
Safety Tips for Travelers
Stay alert and protect your belongings when visiting popular tourist attractions or crowded markets in Bucharest. Pickpocketing can be expected in these areas, so keep an eye on your personal items.
Ensure a safe travel experience using reliable transportation services such as licensed taxis or reputable car hire companies. This will help you avoid scams or unsafe situations while exploring the city.
If you're planning to venture into less touristy and remote areas of Bucharest, it's essential to do thorough research beforehand. Stay informed about any safety concerns specific to those areas and take necessary precautions before embarking on your adventure.
Also, remember our official travel guide to Bucharest in 2023. It comes in handy when visiting Bucharest in autumn or any other season.